Manual Wheatgrass Juicer – Lexen GP27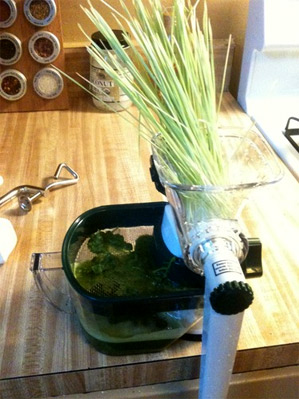 Lexen GP 27 is a simple, manual wheatgrass juicer. Wheatgrass juice is a potent healthy juice. In order to prepare it, you would need to grow your own wheat sprouts, but the benefits are abundant. Wheatgrass juice is very nutritious, having high concentration of chlorophyll, beta carotene and Vitamins B, K and C.
If you have every tried to make wheat-grass juice, you know that the conventional centrifugal juicers, like this Waring juicer, are virtually useless. In order to squeeze juice out of wheat-grass, you need a special type of machine, usually referred to as masticating juicer. Omega J8005 is an example of electric masticating juicers. In contrast, Lexen GP27 is a manual juicer, which means that you have to use the power of your muscles to extract juice out you produce.
Why use Lexen Manual Wheatgrass juicer? Right of the top of our head, we can think of two reasons. First, it is very compact and light-weight. Which means that you can easily take it with you wherever you go. Second, a lot of people find the fact that is uses no electricity very convenient. Most of the electric juicers take too much space and are much more difficult to clean.
In addition to wheat-grass, you can juice other leafy vegetables, even carrots and apples if you cut them into smaller pieces.
The Lexen Healthy Juicer measures only 7.5 inches high by 8.5 inches long, with a handle of 8 inches. The base of the juicer is only 4.2 inches across. The weight of this juicer is just 3.5 pounds.
All in all, if you need to prepare smaller amounts of wheatgrass juice on a daily basis, the Lexen Juicer is one of the best choices out there.
Product Image(s):
(Click on the photo to enlarge)
Video on the Healthy Juicer:
Video presentation of the Manual Wheatgrass Juicer:

Features:
Compact wheatgrass juicer
1-Year limited warranty
Easy to disassemble and clean
Durable plastic parts
Durable stainless steel inserts on the critical spots
Patented suction base
Light-weight – good for traveling
Lexen GP27 Juicer
compact size
masticating juicer
easy to clean
very affordable price

not too efficient
not convenient for prolonged juicing
plastic components
Useful Links:
This juicer on the manufacturer's website: healthyjuicer.com
Places to buy online:
Customer Reviews:
What do you think about Lexen GP27 Juicer? Do you have any complaints, comments, or suggestions?
We would like to hear your thoughts on this juicer. Help us out to represent it accurately!
[WPCR_INSERT]