How To Eat Healthy When Camping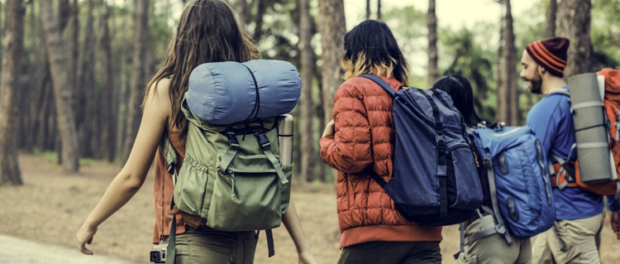 We all love camping from time to time especially when the weather is ideal. There are even people who go camping several times a year since it is an enjoyable experience.
While camping it is paramount to eat healthy foods that will keep you energized. This is because while camping you will participate in an assortment of activities that will require energy. There will also be a change of environment from what you are used to, and as a result, your body should be well prepared for the changes.
I learned about the importance of eating healthy while camping during my first camping trip. I was just sixteen, and I did not know much about camping. The entire camping trip was to last five days, and I thought I had prepared well. Little did I know that it takes more than just carrying the essential things to eat healthily and be comfortable when camping.
During this particular trip, I had brought just snacks which I thought because they do not go bad easily would sustain me for the five days. I had also carried a moderate quantity of water because I did not want to move heavy things. I had also learned that there was a river flowing on the camping site and I thought this river would be a source of water.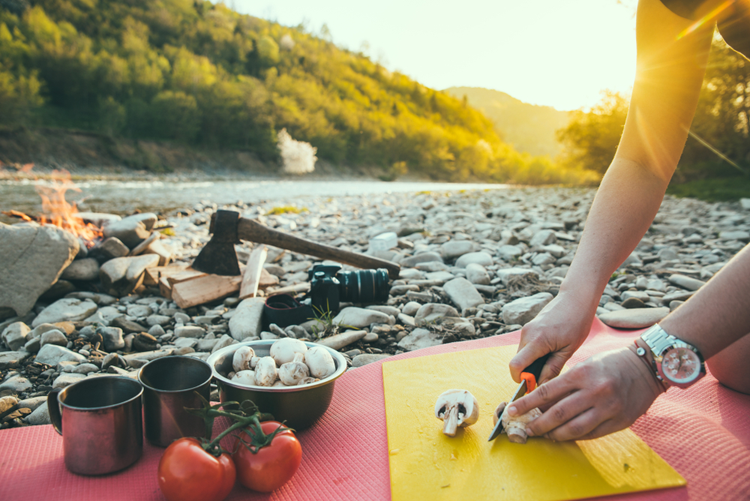 Because of my ill preparation, I suffered a lot during the last three days of the camping trip. First I finished the little water I had carried, and as a result, I had to borrow water from others. The river that was flowing through the camping site was a long distance from where we had set camp, and as a result, it was of no help.
The snacks I had carried were helpful because I did not go hungry for five days. But on the third day, I started getting constipated. I had to borrow fruits from friends again to help me with this particular problem. I learned a lot from this particular camping trip about eating healthy while camping.
During the next camping trip a year later after the first camping trip, I was better prepared. I had carried a lot of water, and among the foods, I had carried there was different kinds of fruits. But during this particular trip, there was the challenge that we had to walk for long distances during the day under the scorching sun. At night the temperatures were, and most of us did not sleep comfortably.
During this particular camping trip, my stomach did not experience any problems because I had a lot of fruits. I also did not get dehydrated because I had enough water.
The challenge was that I started feeling very exhausted because of the long walks during the day. This was because I had not carried foods that would provide my body with the necessary energy.
Almost all the meals I had carried prevented me from going hungry but did not provide me with the energy needed. While camping at night I also suffered a lot because of the low temperatures. This is because I had not considered that while camping at night I would require foods that would provide my body with warmth. So, while camping at night I had to put up with the cold until the trip was over.
So far I have gone for more than sixty camping trips, and all of them have been learning experiences on how to eat healthy while camping. I have camped in different places with different conditions, and all of them have different requirements. I have also understood the foods which you can carry easily but will be very helpful while camping.
From my experience, I am now able to enjoy every camping trip I attend because I know what to eat. I also remember the foods which will not affect me even after going back to my regular environment.
Preparing to go Camping
My experience in eating healthy while camping has come in handy several times both for me and for others around me. I understand that before any camping trip I must research the places we are going camping. This includes the weather in those places and the terrains. I also like to know about the activities which we are most likely to participate in while camping. This includes where we shall be camping at night or we shall be participating in different activities during the day.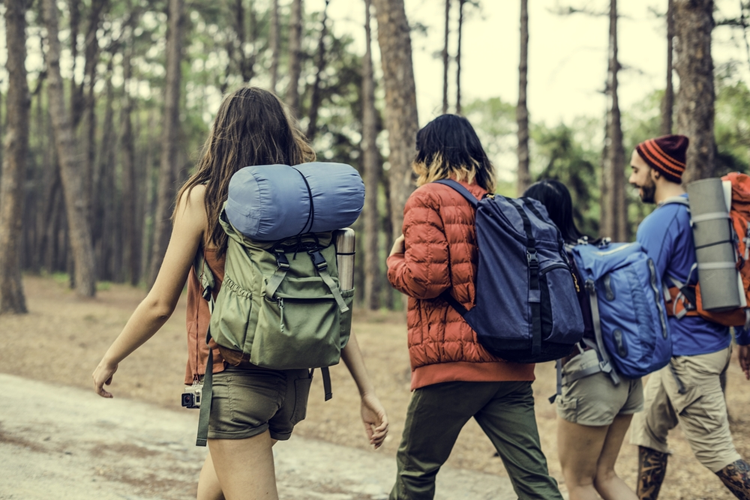 To make sure I only carry healthy foods I seek to know whether we can get some of the foods on the way to the camping sites or I should carry everything I need. Over the years and many camping trips, I have learned that it is better to be safe than sorry. This means that I better carry a lot of foods rather than suffer from not having particular types of foods. So I ensure I carry everything I might need depending on where we are going camping.
Ideal Foods for Camping
There are certain foods which are more ideal than others when it comes to eating healthy while camping. This makes it paramount to know the types of foods you should always have while going camping in different places.
1. Non-perishable Foods
You will not have access to your fridge when camping and therefore you need to carry foods that will not go bad quickly. You might have a small freezer to take some foods that are likely to go bad easily. But your priority should be to ensure the foods you carry are long-lasting and will sustain you during the entire camping trip. Fruits and cereals rarely go bad except that some fruits might overripe. I usually carry premade foods and a lot of fruits which I am sure will last me for about a week or so without going bad.
2. Light and Non-bulky Foods
During the camping trips, you will most likely be compelled to carry your things around as you move from one place to the other. Because of this, it is advisable to take foods which will not occupy a lot of space and which are not very heavy.
Packed foods usually require minimal space, and they are generally beneficial. There are also certain foods which are very light such as vegetables, and they help a lot in providing the body with the necessary energy. I carry a lot of frozen vegetables and fruits because besides being light they can be squeezed into small spaces.
3. Foods That Are Easy To Cook
You will from time to time need to cook some of the foods you will eat while camping especially while camping at night. But you will not have a lot of time to prepare, and as a result, you need to have foods that can be cooked within the shortest time possible.
Foods such as seasoned vegetables are easy to prepare, and they take a concise time to get ready. You can also carry foods such as sweet potatoes that you can quickly put in the campfire and wait until they are prepared without needing a lot of attention. This gives you an opportunity to have an assortment of foods which you can prepare even after a long day of walking. I like carrying seasoned vegetables which I can easily mix with another simple to cook meals and make them within a short time.
4. Energy Foods
While camping, you will need to have all the energy you can get. This is because you will be participating in different physical activities which will require maximum energy. As a result, you should ensure that you carry foods that will provide your body with optimum energy.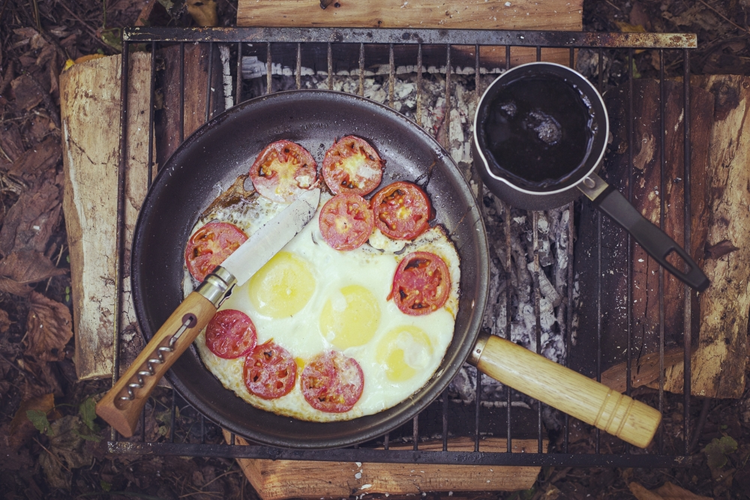 You do not need to carry foods with a lot of calories so that you can get the necessary energy. Instead, you need the foods with high levels of energy so that you can remain energized. I prefer carrying energy drinks and energy bars regardless of where I am going camping. This is because they do not go bad quickly and at the same time they provide my body with the extra energy required for effective camping.
5. Warmth Providing Foods
The ideal time to go camping is during the seasons when the temperatures are high during the day. But during these seasons the temperatures are usually shallow while camping at night. If your body does not get enough heat, you might even suffer from certain cold-related conditions. To avoid this, it is essential to have the foods which are known to provide the body with the necessary warmth. You should ensure that you have pepper in your bags to use on your dinner. You should also have ample quantities of coffee to drink whenever you feel like your body is getting too low. This should be complimented with warm clothes to keep you warm while camping at night.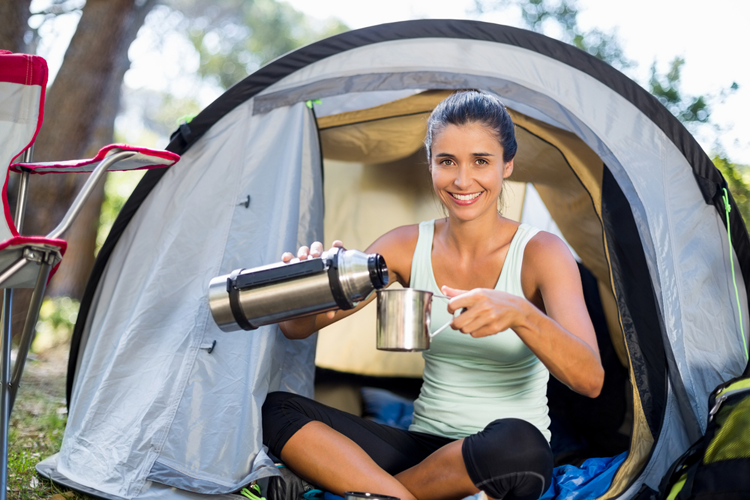 6. Hydrating Foods
One of the most important things while camping is to stay hydrated. This is because the body loses a lot of water especially during the day when the temperatures are high. You better not have enough food but have enough water because when you are dehydrated you will not be able to participate in different activities.
Besides having enough water and fluids, you should also eat the foods which are known to counter dehydration. Such foods include a lot of fruits because they provide the body with extra water. When camping I usually carry more fruits than any other type of food. I like carrying fruits such as apples, bananas, pineapples, grapes, and pears. These fruits do not go bad easily and as a result, they are ideal for camping.
Good Health Habits When Camping
When camping there are certain habits which can help you a lot when it comes to eating healthy. These habits will ensure that you benefit optimally from the foods you eat.
1. Drinking a Lot of Water
It is always very helpful to drink lots of water while camping. I drink a glass of water almost every thirty minutes during the day when camping. This has been very helpful because I am never dehydrated regardless of the temperatures. Water even allows the foods you eat to be digested and absorbed more effectively by your body.
2. Sleeping Well
When camping it is also paramount to get adequate sleep. This is because sleep makes your body relax especially if you spent the day participating in tiring activities. When your body is relaxed you will even get improved appetite and this will give an opportunity to eat more healthy foods. I at times forego some night activities while camping to make sure I get enough sleep. I also take naps during the day when I feel that my body is too fatigued and it needs to rest. You will find that if you sleep well your mood will also improve and as a result, you will be able to enjoy the camping more.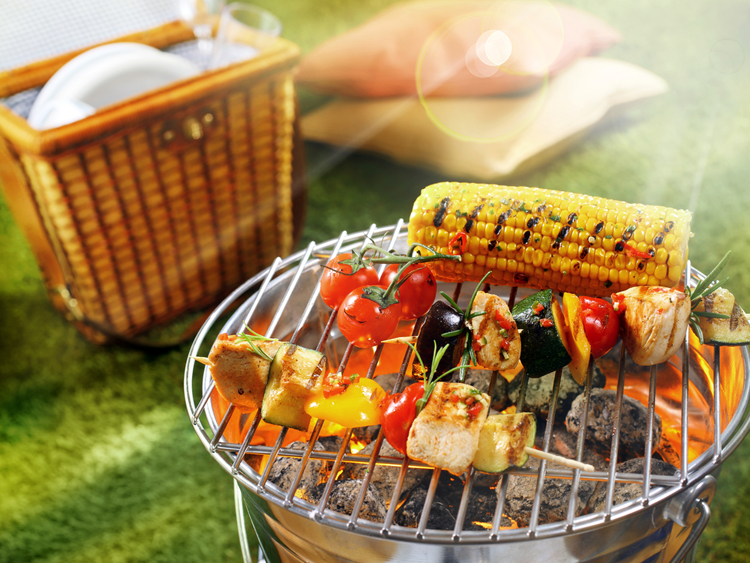 3. Eating Moderate Quantities of Food
Some times when camping you might feel that you are very hungry and as a result think that eating huge quantities of food will help you. But the truth is that when you eat large quantities of food you will just feel uncomfortable. Instead of eating large quantities of food it is better to eat small quantities over many times.
You can keep on eating snacks on regular basis to ensure your body gets the necessary energy. I usually eat fruits on a regular basis where this ensures I have the energy to participate in different activities while at the same time ensuring that I do not experience stomach problems.
4. Cleaning Everything That You Eat
Camping is usually done outdoors where you can quickly come across different kinds of contaminations. As a result, it is paramount to make sure that everything you eat is clean. This is especially when eating fruits because they are more prone to having contaminations.
You should also ensure you wash your hands before handling anything you intend to eat. The utensils you use should also be properly cleaned before being used. The water you drink and use to cook should be clean and from reliable sources. I always ensure everything I eat is clean when camping especially the foods which do not need to be cooked. This is one of the most important aspects I follow as a way of eating healthy when camping.
Sources
1. traveltips.usatoday.com/eat-healthy-camping-13948.html
2. healthfulpursuit.com/2012/07/healthy-travel-104
3. fitnessmagazine.com/weight-loss/eating
4. healthfully.com/279398-a-list-of-healthy-camping-foods.html
5. climbhealthy.com/healthy-camping-trip
AUTHOR BIO:
Melanie Campbell, the outdoor and camping enthusiast behind Ardent Footsteps, has been enjoying this wonderful world since 2010. She shares expert advice when it comes to camping and trekking. With the main focus on making the most out of camping and outdoor adventures, Melanie will make you want to go out today!
Homepage: ArdentFootsteps.com
Twitter: https://twitter.com/malaniecampbell
Google Plus: https://plus.google.com/u/0/110309022399866558936
Facebook: https://www.facebook.com/ardentfootsteps/
Pinterest: https://www.pinterest.com/mcampbell1248/
Instagram: https://www.instagram.com/ardentfootsteps/