Cuisinart CJE-1000 Review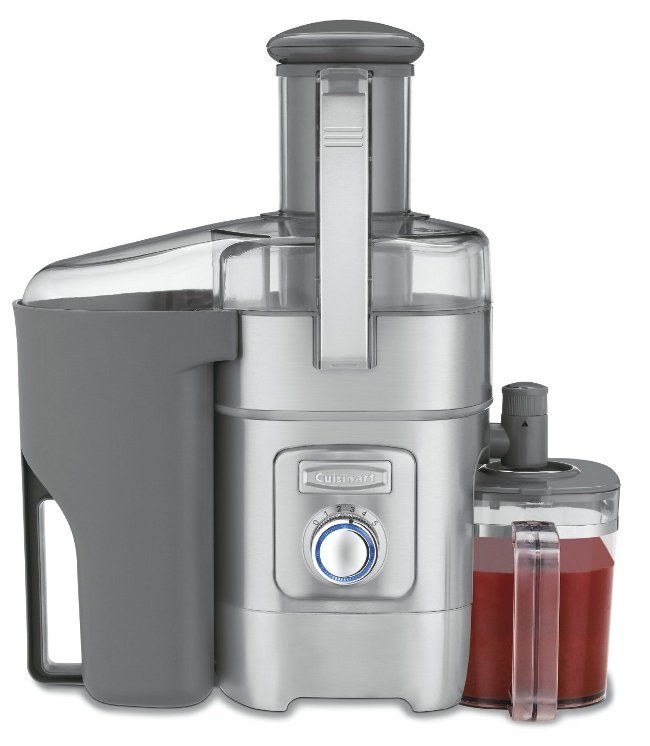 Cuisinart CJE-1000 can be nice addition to your kitchen that will help you live a much healthier life provided that you use it on a regular basis to prepare healthy and delicious juices. The main feature of this juice extractor is its powerful 1000 Watts engine that has a five-speed control for a very fine tuning of the rotation speed of the strainer. You can use the lower speeds if you need to juice softer produce, whereas the higher speeds will be reserved for extracting juice from some harder vegetables.
Cuisinart CJE-1000 comes with a number of great features. For example, it has a fairly large feeding chute, so that you can throw whole apples and oranges without any need to slice them before hand (although we recommend to remove the apple seeds if you want to make apple juice). The other thing we liked about this juicer is it relatively quite operation, even at higher speeds.
The cleaning up of this juicer is not so difficult a task, provided that you do not wait too long after the extraction. The most troublesome part, as usual, is the cleanup of the strainer, but all removable parts are dishwasher safe, so if you don't feel like standing over the sink, you can put each piece in the dishwasher. In addition to that, Cuisinart CJE model 1000 is easily assembled and taken apart, so that you won't waste any extra time on do any unnecessary work.
Product Image(s):
(Click on the photo to enlarge)
Features:
1000-watts motor
Die-cast and stainless steel housing
Easy lock and unlock system
Juice from hard and soft produce
Foam management filter disk
Low noise operation
3-inch feed tube for juicing whole fruits and vegetables
2-liter pulp container
1-liter juice pitcher
5-speed dial control with blue LED light ring
All removable parts are dishwasher safe
Cleaning brush included
Recipes booklet included
3-year limited warranty
Exclusive anti-drip adjustable flow spout
Video Review of Cuisinart 5-Speed 1000-Watt Juice Extractor
Here is a nice, short video review of Cuisinart CJE1000 in action made by a representative of Cuisinart – it will give you an instant glimpse of the size, features and juicing capabilities.
Cuisinart CJE-1000-Watt 5-Speed Juicer
quiet,
easy to use
solid juice yield
large feed tube
anti foam disc

wet pulp leftover
too many part to clean
too many nooks in the plastic lid
Useful Links:
Manufacturer's website: www.cuisinart.com
Places to buy online:
Customer Reviews:
We would like to hear your thoughts on this juicer. Help us out to review it accurately!
Do you find Cuisinart CJE-1000 a good juicer? Do you have complaints or comments?
[WPCR_INSERT]