Juiceman JCJ150S Automatic Citrus Juicer Reviews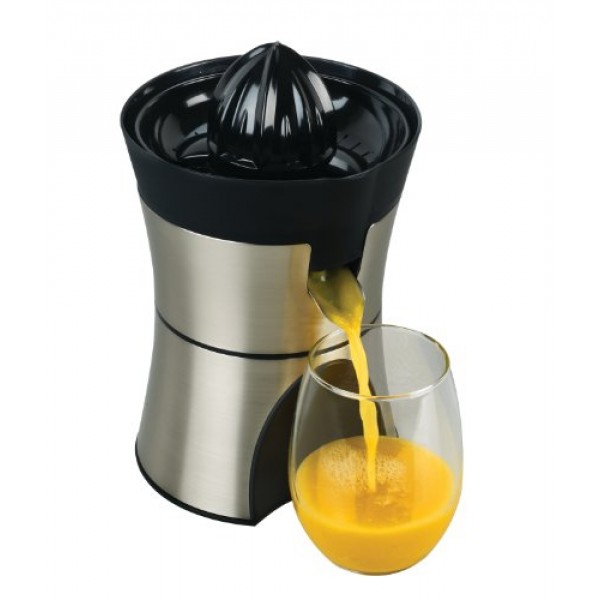 Juiceman JCJ150S is a simple, electric cirtus juicer which comes with two exchangeable cones for juicing different sized citruses. This allows juicing small limes or lemons as well as larger grapefruits with similar efficiency. One feature that makes this juicer stand out is its pressure activated auto-start function. The Juiceman Citrus Juicer also has an auto-reverse juicing function.
The body of this juice extractor is robust and made out of stainless steel. Working with this juicer is very easy – just select the proper cone size, slice the citrus fruits you are about to juice in two and press them firmly on the cone. As soon as you do that the engine will be activated, extracting the juice. Once you reduce the pressure, the juicer stops automatically. On the second push, the cone starts rotating again, this time in the other direction. This feature helps you squeeze the last drop of juice out of the fruits.
The removable parts of Juiceman JCJ150S are dishwasher safe, but you can quickly and easily rinse them by hand without overloading your dishwasher.
Product Image(s):
(Click on the photo to enlarge)
Features:
small but powerful 40 Watt engine
1 standard cone for Oranges and Grapefruits
1 small cone for Lemons and Limes
pressure activated auto-start function
pressure activated auto-reverse function
pulp strainer
dishwasher safe components
Stainless steel desing
2-Year limited warranty
Juiceman JCJ150S Citrus Juicer
great design
easy juicing
easy to clean if you rinse it immediately

easily clogs up
not convenient for prolonged juicing
higher vibrations during operation
Useful Links:
This juicer on the manufacturer's website: www.juiceman.com
Places to buy online:
Customer Reviews:
What do you think about Juiceman JCJ150S Automatic Citrus Juicer? Do you have any complaints, comments, or suggestions?
We would like to hear your thoughts on this juicer. Help us out to represent it accurately!
[WPCR_INSERT]