Waring Jex328 Health Juice Extractor Reviews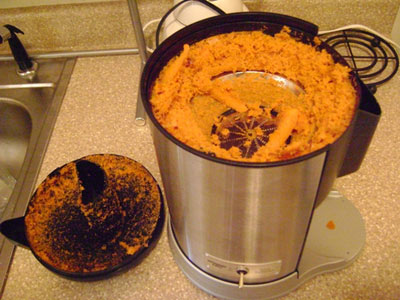 Waring Jex328 Health Juice Extractor is a juice extractor from the lower price end. If you are about to enter the world of juicing, this juicer will be a good choice. Just like this Black and Decker Juicer it has a small but powerful 400 Watts engine, capable of juicing virtually everything. Unlike some other inexpensive juicers, Waring JEx328 will not clog easily. It has rubber cushioned legs to prevent too intense vibrations as well as a stainless steel strainer for prolonged operation. Waring Jex328 Juice Extractor comes with an excellent 5 years warranty on the engine and 1 year warranty on the other parts.
Where this juicer excels is the comparably easy cleaning after the juice has been produced. Since it has only a couple of parts that need to be washed, the clean up does not take a lot of time. Assembling and disassembling the juicer is quite easy, and you can also use the dishwasher if you like. This is a very popular juicer. The only important complaint some customers have is the relatively small feed chute of this juice extractor.
Product Image(s):
(Click on the photo to enlarge)
Features:
5 year warranty on the motor, 1 year on the appliance
high-speed 400-watt motor
stainless steel brushed housing
dishwasher-safe components
compact pulp and juice collectors, strainer and lid
Video Review of Waring Jex328 Juice Extractor
If you want to see this Waring Juice Extractor in action, check out the following video review.
Waring Jex328 Juice Extractor
great price
fast juicing
easy to clean the component parts
easy operation

small feeder – cutting is needed for larger produce
wet pulp leftover
difficult to clean the mesh
Useful Links:
Manufacturer's website: www.waringpro.com

Places to buy online:
Customer Reviews:
We would like to hear your thoughts on this juicer. Help us out to review it accurately!
Do you find Waring Jex328 Health Juice Extractor a good juicer? Do you have complaints or comments?
[WPCR_INSERT]