Black and Decker Juicer Je2200b Reviews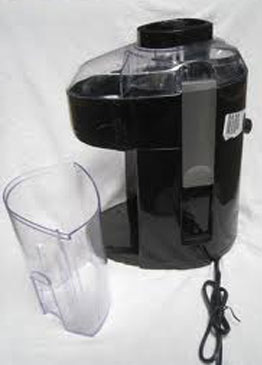 Black and Decker JE2200B is a juice extractor from the lower price end. This fact, however, does not mean that it performs poorly. With its high-speed 400-watt motor, you will be able to prepare your favorite juices quickly and easily. In our opinion, when talking about the best inexpensive juicers on the market today, this Black and Decker Juicer is not as good as Hamilton Beach Big Mouth Pro, but if you compare the prices you will see that there is a price gap between the two as well.
If you haven't been involved in juicing before, this juicer can help you get started. With its compact design and integrated pulp container JE220B will even save you some space on your kitchen countertop. Still, the pulp container is large enough so that you won't need to empty it too often. Its cutters and strainer are made of stainless steel; all its parts are easily accessible. This juicer is easy to take to pieces and assemble again. Black and Decker JE2200B is relatively easy to clean, where, most of your time will be spent on thorough cleansing of the strainer. It comes with a 2 years warranty, which for a low budget juice extractor is an excellent thing.
One of the greatest disadvantages of this juicer is its small chute which will require cutting the larger fruits and vegetables to small pieces. Even though this affordable juicer is made having a pretty light use in mind, for many people it can be their entry level machine before making up their minds for a more sophisticated juice extractor.
Product Image(s):
(Click to enlarge)
Features:
2 year warranty
integrated pulp container
dimensions: 13 x 9 x 9 inches
dishwasher-safe components
400-Watt-engine
stainless steel cutters and strainer
Video Review of Black&Decker Juicer Je2200b
If you want to see this Black and Decker Juicer in action, check out the following video review.
Black and Decker Juicer Je2200b
great price
relatively easy operation
compact dimensions
great for producing smaller amounts of juice

small feed chute – requires time for cutting produce
no rubber-stoppers
weaker performance for veggies
wet pulp leftover
Useful Links:
Manufacturer's website: www.blackanddecker.com
Places to buy online:
Customer Reviews:
We would like to hear your thoughts on this juicer. Help us out to review it accurately!
Do you find Black and Decker Juicer Je2200b a good juicer? Do you have complaints or comments?
[WPCR_INSERT]