Jupiter Large Commercial Juice Press Reviews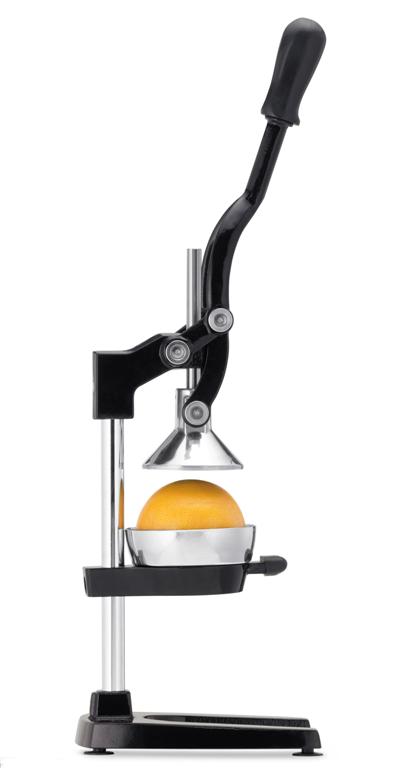 This Large Commercial Juice Press belongs to the gamma of products manufactured by OrangeX (Note that Olympus Citrus Press is the new name for this OrangeX Commercial juicer). Some of the world's best manual juicers of professional-quality are made by this manufacturer. This commercial juice press is made of cast iron and is dedicated to squeezing large quantities of juice from citrus fruits. The Jupiter juicer is especially convenient for juicing limes and lemons and smaller to medium large oranges. Quite easy to clean and use. It can deliver as much juice as one could hope for.
Product Image(s):
(Click to enlarge)
Video Review on Jupiter Large Commercial Press
Check out this nice demonstration on what performance can be expected from this juicer.
Features:
For juicing small to moderately sized citrus fruits – limes, lemons, small oranges and small grapefruits.
Professional juicer for heavy duty operation.
Comes in black color.
Made from cast iron and stainless steel
Ergonomic handle coated with rubber.
Hand wash cone and funnel parts
Jupiter Large Commercial Juice Press
Durable
Easy to clean
Easy to set up

Requires a lot of space
Requires strength
Suitable for smaller to medium sized citruses
Useful Links
Manufacturer: Orange X
Places to buy online:
Amazon.com – Black
Amazon.com – White
Customer Reviews:
Have you been using this juicer in your home? Do you find it useful? Do you have any complaints?
Help us out to accurately represent this juicer!
[WPCR_INSERT]