Progressive International Citrus Juicer Reviews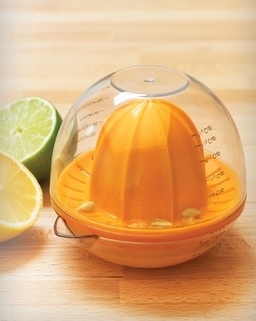 This Progressive Citrus Juicer can solve some of your everyday juicing problems, especially if you need precisely measured fresh juices for your favorite recipes. If you need to get a definite amount of juice with minimum effort, this might be the right choice for you. This juicer will trap the seeds and pulp and you will get your desired juice quantities quickly and without the need to plug in your "heavy duty" electric juicer.
Product Image(s):
(Click to enlarge)
Features:
For juicing citrus fruits, specifically lemons, limes, small oranges and small grapefruits.
Compact dimensions. The lid serves also as a measuring cup.
The measurement can be done in cups, tablespoons and milliliters. The clear base can measure up to one half cup, 8 Tbsp or 120 ml. The dome lid can measure up to twice the amount of the base.
Useful Links:
Manufacturer's website: http://progressiveintl.com/
Where to buy online: Amazon.com
Customer Reviews:
Have you been using this juicer in your home? Do you find it useful? Do you have any complaints?
Help us out to accurately represent this juicer!
[WPCR_INSERT]