Omega J8005 Single-Gear Reviews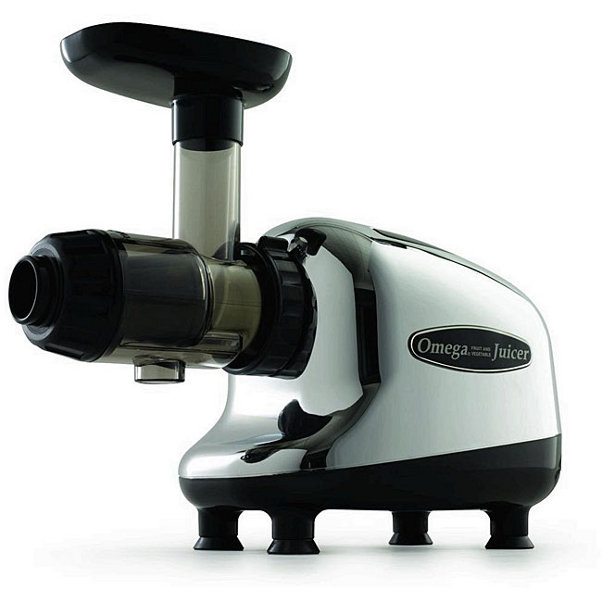 Omega J8005 Nutrition Center Single-Gear is a juicer capable of performing a number of additional functions: food processing, pasta extruding, homogenizing, and grinding. Using its mono-phase induction motor, this Masticating juicer can crush the vegetable and fruit fibers to extract only the purest enzymes rich juice. Omega J8005 performs it juicing function in two stages so that the end result is more perfect.
If you really want to have a masticating juicer, Omega J8005 Nutrition Center is one of the best choices you have. With a low rotation speed of 80 RPM's you will get a juicer capable of producing juice without the additional introduced heat of the centrifugal juicers and without the harmful oxidation of the nutritive substances. There is an automatic pulp ejection which helps remove the pulp so that the juicer remains clean for a longer period of time.
Product Image(s):
(Click to enlarge)
Features:
10 year warranty
auto pulp ejection
reverse mode
high quality juice yield
1/3 horse power induction motor
17 pounds
Video Review on Omega Juicer 8005
Nice video explaining the basic juicing capabilities of this juicer.
Omega J8005 Single-Gear
works great for certain produce
easy to clean
dry pulp – very efficient juice extraction
low noise

small feed tube compared to other juicers
relatively slow
plastic parts
inability to juice soft produce
Useful Links:
Manufacturer's website: www.omegajuicers.com
Places to buy online:
Customer Reviews:
We would like to hear your thoughts. Help us out to review this juicer!
Do you find the Omega J8005 juicer useful? Do you have any complaints or comments?
[WPCR_INSERT]