Choosing the Best Organic Lemon Juice: The LakeWood Brand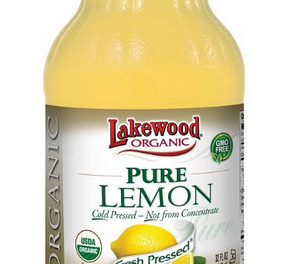 OK, I get it. You don't always have the time to squeeze your own lemon juice.
It takes no more than 2 minutes, together with washing the dishes, but you are running late.
Freshly squeezed lemon juice rules. It has numerous health benefits. Only if there is no alternative should you resort to using commercial lemon juice over the freshly squeezed one.
So, what is the best organic lemon juice brand?
After some research and to the best of our knowledge we can recommend the LakeWood Organic Lemon Juice.
Here is why:
Not Coming from Concentrate
Most of the commercial lemon juice out there is produced from lemon juice concentrate. What does it mean?
When the juice is produced from a 100% concentrate it means that:
First, the initial juice is from real fruit. All of it.
Second, the water content is evaporated to produce powder. This powder form is called concentrate. It is much easier to handle concentrate than real juice, as it doesn't weigh that much and it is easier to ship to the production facility.
Third, the manufacturer will add water to the powder to restore the liquid form of the juice.
Unfortunately, along with water some manufacturers may add additives, artificial color, and artificial taste. For example, some brands will add preservatives in the form of sodium benzonate, sodium metabisulfite, and sodium sulfite, as well as lemon oil.
When you buy lemon juice in its natural form, then, you avoid all these additives and preservatives.
This is an Organic Pure Lemon Juice
Organic is not only in, but it is also a necessity. Lemons have a thick skin, so spraying extensively might not be a huge issue. I suppose that's the reason why they are among the safer fruits when not purchased in their organic variation. Lemons just like limes are safe when grown conventionally, unless you use the rind, which is not the case if you use the juice only.
Still, whenever I can I purchase organic lemons and limes. I suggest you do that too.
Two Tablespoons Equals the Juice of One Lemon
The advantage here is you don't have to get your hand dirty. No need to squeeze, no need to discard the lemon seeds, no need to wash the accessories. Just take two tablespoons and you have the juices of the entire lemon.
Glass Bottle

This is a huge plus for me. Too many types of spring water and juice brands come in plastic bottles. Plastic bottles (or at least some of the plastic varieties out there) associate me of dioxins and bisphenol A, and similar substances that are being leached from the plastic walls into the liquid, causing all sorts of different health problems.
No Sulfates
This particular product comes with only pulp and juice from ripe lemons grown organically.
Splendid Online Reviews
The LakeWood brand of lemon juice has some excellent reviews from people who use it on a daily basis. So either prepare your own home-made lemon juice (best option) or purchase this product.
The Downsides
Pasteurization
This is unavoidable if you are going to sell bottled fruit juice. In addition to killing germs, pasteurization kills the taste and some of the nutritional value.
Mild Oily Taste
There is a slight touch of oily aftertaste, but it is not nearly as strong as some of the other lemon juice brands on the market. It could be that there is some residue of rind in the mix.
Additional Facts
It is amazing that each 32 oz. bottle contains the lemon juice squeezed from more than 30 Fresh Lemons.
This type of juice has been Kosher Certified by KOF-K
It goes without saying that this juice is NOT sweetened in any way.
It is NOT diluted in any way. You'll get the full strength of five percent acidity with it.
Shake before serving.
Store in a freezer after opening, and use it within 6 weeks of opening.
Conclusion
I like making my lemonade using a simple juicer and organic lemons that I buy from my local grocery store. I never add any sugar or artificial sweetener, just pure clean water. When I don't make my own lemonade, for example when I am out of lemons, I use the Lakewood brand. This is the best lemon juice of highest quality I could find on Amazon.

In the end, the decision is yours to make. Are you going to buy bottled real lemon juice, albeit pasteurized, or go for the juice made from concentrate, in which case preservatives and additives are also there? Whenever I'm unable to prepare my own lemon juice, I would always choose the first solution.
To your health!