Choosing the Best Cranberry Juice – Lakewood PURE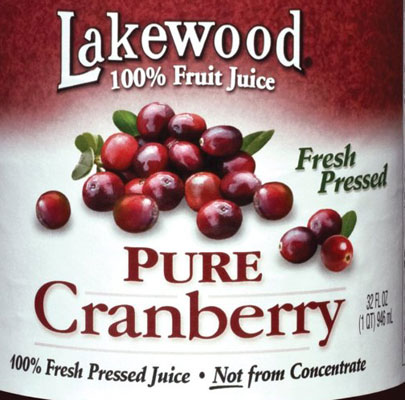 Cranberries are available in many different forms, including dried cranberries, pure or mixed cranberry juice, cranberry sauce and jam. Of all the forms of food out there, we naturally prefer the cranberry juice. Today, the popularity of cranberry juice is on the rise, mainly because of its scientifically proven health benefits. The medicinal value of this juice is primarily in the prevention of urinary infections, reducing the risk of kidney stones and diminishing the plaque on your teeth. In addition, cranberry juice contains several powerful antioxidants can improve your general health and prevent various health conditions.
Health benefits of Cranberry juice
Research has shown that cranberries are amongst the top five foods with largest antioxidants content per serving. The antioxidants discovered in cranberry juice are phenolic acids, resveratrol, quercetin, anthocyanin and selenium. Besides, cranberries contain a lot of vitamins, minerals and bio-flavonoids (source www.ars.usda.gov).
Other studies have proven that the antioxidants from the fruits and vegetables are more suitable for human nutrition as compared to the inorganic dietary supplements. The results of these studies indicate that the antioxidants are best assimilated in combination with the other natural substances present in the foods.
Another class of micro-nutrients discovered in cranberry juice are the iridoids. Iridoids naturally occur in a several classes of plants, such as Noni (Moridna Citrifolia), English Plantain, Honeysuckle, Catnip and Berries. In 2002, the scientific Journal of Agricultural and Food Chemistry published an article in which several berries commonly eaten fresh or used to make juice are identified as foods that contain iridoids. Specifically, cranberry and lingonberry juices were found to contain two types of iridoids, while blueberry juice just one. In an article published in Journal of Natural Products, scientist reported on another type of iridoids present in cranberries – coumaroyl iridoids.
Why are these iridoids important?
Primarily because they are very stable substances, capable of surviving the pasteurization procedure. A lot of phyto-nutrients are actually lost after the pasteurization and the benefits of drinking bottled juices are greatly diminished. However, there are many evidences that iridoids are still present in the bottled juices, delivering the same bio-active function to the cells of the body as in the freshly extracted juices.
Home made juice
The absolutely best cranberry juice is certainly the one you can prepare at home. Fresh cranberries simply cannot be compared with any cranberry-based product you can buy in a store. Even the frozen cranberries are a better deal – they can be stored and used whenever you like to prepare smoothies, juices or mixes. If you want to prepare your own fresh cranberry juice, choose berries that are bright and firm and wash the fruits before juicing. The cranberry juice yield is not too huge – 2 pounds of fresh cranberries will give you one and a half cup of juice. You don't have to throw away the pulp, though. It can be used to prepare fruit sauces or delicious syrups. The pulp also tastes great in fruit smoothies. The flavor of this type of juice has certain tartness, so you might want to mix it with other fruits, such as apples, grapes or apricots. Still, for the best health impact, try to drink it pure and immediately after extraction.
Cranberry Juice you can buy in a store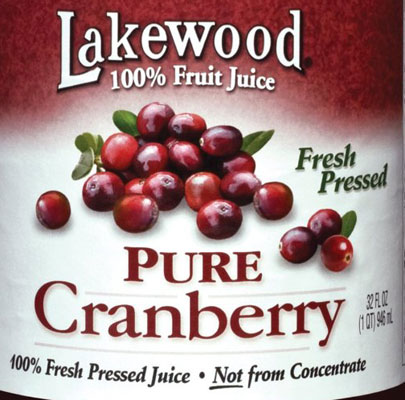 In choosing the best cranberry juice, the sharp taste of the raw juice could pose a potential problem. You might want to select juices with sugar added to them to improve the taste, but then the health impact might not be as great as you would like it to be. In any case, if you are looking for a light and refreshing drink, then you would probably have to choose a juice brand with extra sugar in it. There are usually three types of products – cranberry juice as concentrate, cranberry juice as bottled juice and mixed with one or several fruit juices.
Again, there are juices that are 100 percent pure, without other fruit juices added to them, and without extra sweeteners. They will be your best choice for boosting your health. As of recently, there are some brands produced from organically grown berries. Don't be lazy to check the label of such brands to make sure they state unequivocally that the berries are truly organic.
Even if the juice is 100 % natural and organic, there is one great disadvantage if you are buying in a supermarket. They are all pasteurized. This means that, with exception of the iridoids, a lot of other enzymes and phyto-nutrients are lost, since these bio-chemical compounds are not able to survive the pasteurization process. That's why, whenever you can, you should go for the home made juices.
Best Juice Money Can Buy
If you have no time to prepare your own juice, you would have to buy some. One of the best brands we could find is
Lakewood PURE Cranberry Juice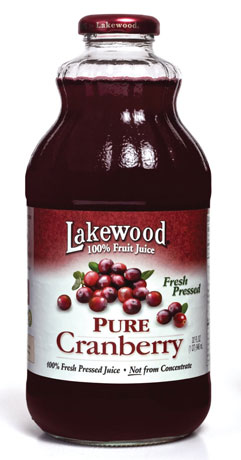 The advantages of the Lakewood organic cranberry juice is that it contains neither preservatives nor artificial flavors. Furthermore, it is not made from concentrate.
In addition, this Lakewood juice is 100 percent vegan, vacuum-sealed to prevent fermentation or spoiling and gluten and casein free.
On the Lakewood website, the producer indicates that this brand contains "only the juice pressed from fresh cranberries. Since there is nothing added to our 100% Pure Cranberry juice it will naturally have a bitter and acidic taste; therefore, this juice is most often consumed for medicinal purposes".
In a 3/4 cup serving of Lakewood organic cranberry juice there are 52 calories, provided that you consume it unsweetened. About 93 percent of the calories are from carbs, and 7 percent from proteins. The other nutrition values can be checked here.
One thing is clear. This is not a cheap product, but you will get a total of 192 ounces in 6 32 ounce bottles of pure cranberry taste. If you are not used to it, it might be too intense at the beginning, but this juice is cleansing and very energizing.
You can purchase this juice online at Amazon.com. Presently they have a free shipping offer this product. You can buy this juice at the Amazon.com web site here: Lakewood PURE Cranberry Juice, 32-Ounce Bottles (Pack of 6)
Additional reference you might want to check is the Amazon customer reviews
page.