Choosing the Best Tart Chery Juice – Dynamic Health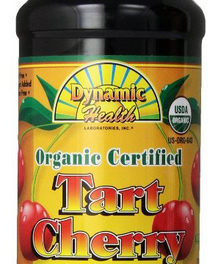 The best possible tart cherry juice you can drink is, without any doubt, the one you prepare at home. This juice is packed with a number of health benefits you can read about here.
Fresh tart cherries cannot be compared with any tart-cherry-based juice you can find in a store. Or any other commercial product made from tart cherries for that matter. Even the frozen tart cherries are better – in fact, it has been shown that they retain most of their nutritive value even after being frozen. So store any fresh sour cherries you can't use immediately in a fridge and use them whenever you'd like to prepare juices or smoothies.
Cold Pressed Tart Cherry Juice
To prepare your own cold pressed tart cherry juice, choose cherries that are firm and bright and wash them thoroughly before juicing. A great option would be to buy them at a farmers market. Even better option is to choose them organically grown every time you can find them. Some varieties of this fruit are heavily sprayed with pesticides, fungicides, and insecticides. Believe me, you don't want all that poison ending up in your body.
The tart cherry juice yield is moderate: about 1 pound of fresh sour cherries will give you about 1.5 cups of juice. When you remove the pits from the stemless cherries, you will get something like 2.5 cups or tart cherries. These will then be enough for one and a half cups of juice. Don't discard the pulp. You can use it to prepare other delicious treats.
If you dislike the tartness, add some water to dilute it, or mix it with other fruits, for example, lemon, berries, etc. Drink it immediately after extraction, or store in a fridge for later use (for no longer than 24 hours).
Tart Cherry Juice You Can Buy in a Store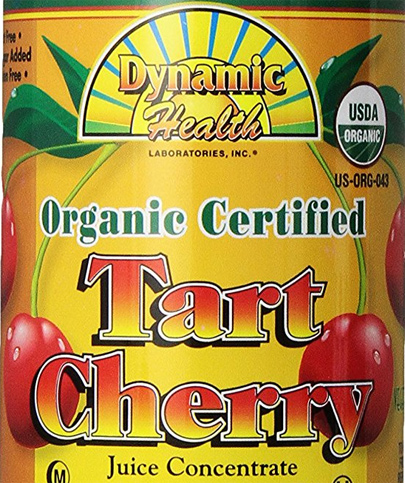 In choosing the best sour cherry juice, some people find the intense taste of raw tart cherries a bit of a problem. So you might be tempted to buy a juice brand with added sugar to improve the taste. However, in such a case the health benefits might be greatly diminished. What you gain from the antioxidant content, you lose because of the adverse effects of sugar.
As with the other fruit juices, there are basically three categories of this product – tart cherry juice as a concentrate, tart cherry juice as a bottled product and different mixtures with several other fruit juices.
Again, some brands are 100 percent pure, without preservatives or extra sweeteners. Seek out these brands to boost your health. What's even better is choosing the juices made from organically grown tart cherries. Always check the labels to make sure that the cherries are truly organic.
Even if 100 % organic, the disadvantage with the commercial brands found in a healthy food store is that they are all pasteurized. Many of the enzymes and nutrients are lost, as they are unable to survive the pasteurization process. This is the main reason why you should prepare freshly sqeezed home made juices.
Best Juice Money Can Buy
What if you don't have time to prepare a cold pressed tart cherry juice? Then you would have to buy one. While there are many varieties available, we feel it is much better to choose the concentrated Tart Cherry juice instead of various cherry juice mixes. Mainly because of its price we prefer juice concentrate, rather than, for example a brand of pure, not-from-concentrate juice. One of the best brands of juice concentrate we could find is
Dynamic Health Organic Tart Cherry Juice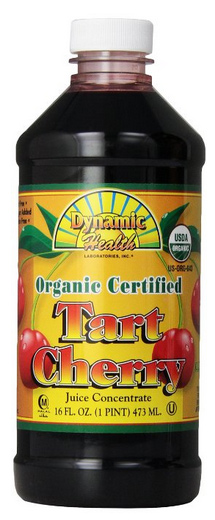 The obvious advantages of the Dynamic Health tart cherry juice is that it is organic. It doesn't contains preservatives or artificial flavors, which is an additional plus. It is made from concentrate, but it is 100 percent organic and certified, fat free, no gluten added, and sugar free.
If you purchase this Dynamic Health juice from Amazon.com, you should know it doesn't ship cold. Furthermore, it seems to ship in a plastic bottle (which is unfortunate, much better would be if it came in a glass container; try to find this very brand in your local store in a glass bottle). Once you open it, you would have to refrigerate it.
On the Dynamic Health website, the manufacturer indicates that their products are not Only Organic certified, but also Hala, Kosher, and Purity certified. They claim to control the supply chain to ensure the highest possible quality of the produce.
In 2 TBSP serving size of Dynamic Health Tart Cherry juice concentrate there are 70 calories, that is if you decide to consume it as is, unsweetened. Most of the calories are from carbs, and there is very little protein, with no calories from fat.
You can buy this juice online on the Amazon webiste from here: Dynamic Health 100% Pure Organic Certified Tart Cherry Juice Concentrate
As an additional reference, a good place to look is the Amazon customer reviews web page. With over 1,000 reviews at the moment of writing this review, this is certainly a popular item.