Lettuce Juice Health Benefits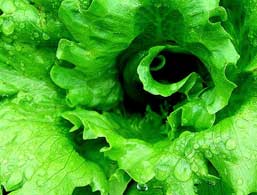 It might look strange at first sight, but lettuce can be a source of a very healthy and delicious juice. It has a number of beneficial micro-nutrients, but the most important are iron, Fe, and magnesium, Mg. In lettuce, both elements are contained at the level of around 5 percent. Not too many words should be spent on iron, as one of the most vital elements for the normal functioning of the bodily systems. Unfortunately, a lot of processed foods consumed today do not contain iron in its vital organic form. Due to its high activity, iron should be renewed more frequently than the other nutrients. Our body can store certain amounts of iron in the liver and spleen. Those elemental supplies are used in emergency cases, for example, for accelerated blood cells formation when there is blood loss or injury. In the spleen, iron serves, together with the other chemical compounds, as a battery power for recharging the blood. At the same time lettuce, like almost all vegetables, possesses relatively low sodium content, which makes it a desirable ingredient in any type of low sodium juice.
Another variety of lettuce is Endive.
Health Benefits of Lettuce Juice
The other dominant element in lettuce, magnesium, is good for the muscles, and the nervous system. The various Mg salts are vital for cell building and regeneration. Mg salts also help in maintaining the necessary levels of fluidity of the blood. The normal biochemistry of magnesium is supported by calcium, Ca, and calcium is another element already present in lettuce in large quantities (around 15 percent).
Next in importance on the list of minerals are potassium, K, (~ 30%), phosphorus, P, (~10%), sulphur S and silicone (~8%). It is important to take both P and S from living, organic foods, and then they are very beneficial for the brain and nervous system. If they are taken from inorganic supplements or meat product, their action is not as beneficial. Some sources even state that inorganic sulphur and phosphorus can be held responsible for a number of nervous afflictions. Combined with silicone, they help the proper functioning of the skin, hair and nails. Silicone is one of the important, but often neglected elements of the biochemistry of the body.
Lettuce as salad has been known in the ancient times. The ancient Greeks were convinced that lettuce helps achieve deep sleep, which is not so strange now that we have seen how healthy its juice is. For that reason, they regularly served lettuce salad at the end of their dinner.
Lettuce juice can and should be combined with other juices. A mix of carrot juice with lettuce juice is possible, where the carrots add a lot of Vitamin A, and sodium. Another option is to prepare carrot, spinach and lettuce juice, with very positive effects on the roots and nerves of the hair. A combination of carrot, green pepper, alfalfa and lettuce will aid the hair growth and restore its natural color.
Tips for preparing lettuce juice
Although you might prefer the young, light green leaves from the inside head of lettuce, the best leaves are those of darker shades, deeply green in color. They are the richest in chlorophyll and many other minerals.
Since lettuce is a relatively soft type of food, a good advice is to juice it together with harder vegetables, such as beets, or carrots. The juice produced that way will be much more consistent. We recommend using a powerful juice extractor, such as the hamilton beach big mouth pro 67650 juicer.