How to Make Healthy Carrot Juice Combinations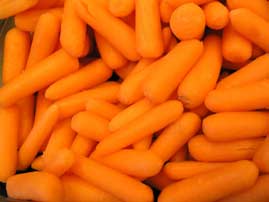 Carrot in combination with other vegetables can produce especially healthful, tasty and refreshing drinks. We all need to drink juices daily, since they are the most effective nourishment for our body. Any fresh raw juice is better than no juice at all. The knowledge about how to make these healthy juices comes naturally if you have a quality electric juice machine.
If you do not have a juicer, there are two other methods: to squeeze the juice out of the carrots manually, or to use a blender. The former method is too time consuming and difficult, whereas the latter does not separate the juice from the pulp, so it is meant more for producing smoothies. Therefore, the only real way of producing quality carrot juice (or carrot juice combinations) is to use an electric juice extractor.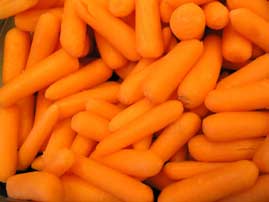 The juice extracted by a juice extractor (we recommend the hamilton beach big mouth extractor) should be used immediately. The extraction of the juice from the fibers is never 100 percent complete. Moreover the oxidation and heat from the friction in the juicer will tend to spoil the juice in a short time. However, the good news is that the potentially toxic sprays are retained in the fibers of the vegetables and are not present in the fiber-free juices.
Therefore, making raw carrot juice is really easy. If you still have doubts about how to produce nice and refreshing carrot juice, watch the video bellow.
Raw Carrot Juice
Carrot juice is probably one of the most popular drinks. In addition to its image as a healthy drink, there is plenty of scientific verifications of how beneficial it is to drink carrot juice. Cancer studies have acclaimed beta-carotene – the form of vitamin A in carrots – as a cancer-fighting nutrient. Read more about the properties of beta carotene here.
Carrot juice helps normalizing the whole bodily system. It is one of the most abundant sources of Vitamin A, but it also can supply enough of the other vitamins. Be careful though if you are trying to reduce weight. It helps to promote the appetite.
It is known to help in maintaining the bone structure of the teeth. Breast feeding mothers should consume a lot of carrot juice to improve the quality of their milk.
Carrot juice naturally clears a number of malignant and ulcerous health issues. It is known to be able to help with eye and throat infections and respiratory health conditions.
Some intestinal conditions can be soothed with carrot juice. When this happens, the liver might be purified, and the liver clogging agents dissolved.
Video on Preparing Raw Carrot Juice
Take a look at this video if you need further instructions about preparing raw carrot juice. The same principle holds if you want to make the mixed juices that will be considered further bellow.
Carrot juice mixes
Carrot is one of sweetest vegetable juices. But what about all the other wonderful vegetables around us? We can combine carrot with spinach, parsley, beets, peppers, and man other types of vegetables.
Here are some basic combinations of carrot juice
To the carrot-beet combination you can add some green paper. To the carrot-apple combination, some alfalfa sprouts can contribute to a very healthful juice.
The rule of the thumb when preparing such juices is that at least 50 to 75 % percent should be reserved for the carrot component.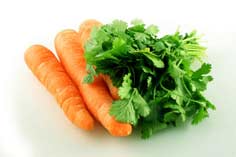 Carrot Combination Juices have many benefits. They are very potent energy drinks. One cup of carrot juice has about 95 calories and over 20 grams of carbs. Here is the full chart of minerals and vitamins contained within one cup of carrot juice along with the percentage of daily values.
As such, carrot juice can provide the caloric intake needed to start the day and get you going. They have also a number of physiological benefits, depending on the specific combination. Carrot plus beet juice can energize the liver. Carrot plus parsley is good for blood purification, but parsley is also known as a diuretic. The cabbage in the carrot juice combination can help soothe the stomach.
Just remember that carrot juice is sweet and too many sweets are sometimes not so good. That said, the main advantage behind the carrot combination juices is that you can use other veggies to soften the sweetness of carrots. Carrot juice alone can be too sweet and if you are juice fasting or dieting your body will be more susceptible to blood sugar addictions without the solid foods.
You can combine your carrots especially with the green vegetables to moderate the sweetness. The alternative is to dilute with water. Mixing vanes your nutritional intake which can be important if you are on a fast. By doing so, you make it possible to still consume the sweet foods like carrot, apple, watermelon, beet, or similar.
Depending on your personal inclinations you can always find these juices very helpful in your daily diet. Do not overdo them however.
Carrots can be mixed with apples. This is often a very beneficial mix. Although one doesn't ordinarily mix raw fruits and vegetables, the combining rules for solid foods are not always applicable for liquids. Since juices are mostly water (very energizing and vitalizing water, by the way), mixing different freshly squeezed liquids is not such a big deal.
There is an exception to the above rule. It is not so advisable to mix lemon juice, grapefruit juice or orange juice with carrot juice. The reason is that the former are acidic fruits. This is why they should be mixed only among themselves, while they can cause the other juices to curdle.