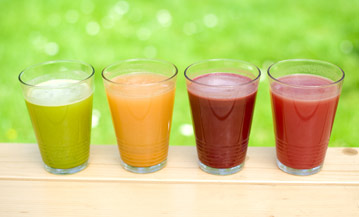 If you are used to juicing for better nutrition and optimum health you certainly know how important it is to take at least one glass of vegetable juice in the morning. The juices taken in the morning will help you energize your entire body. In addition, they will give you enough nutrients to get you going. Here are some useful juicer recipes that you can use to prepare your delicious morning juices or smoothies. Make sure you also check our list of tips on preparing vegetable smoothies for maximum health benefit.
Detox Morning Juice
2-3 stalks of celery
2 peeled cucumbers
6 broccoli flowers and stalks
1/2 lemon
1 piece of ginger
This juice is a great way to absorb all the healthy nutrients your body needs right after you wake up in the morning. It will provide plenty of minerals and vitamins and will prepare you to meet the challenges of the day in a much better shape.
Simple Vegetable Morning Juice
2 large beets
8 stalks of celery
10 medium carrots
Celery is an important ingredient of this juice. Researchers have shown that adding celery to your morning juice can lower the blood pressure by up to 15 percent. In case you are on a raw food diet, there is another important benefit of this vegetable juice. Celery contains organic sodium, which lacks in many raw fruit and vegetable diet plans.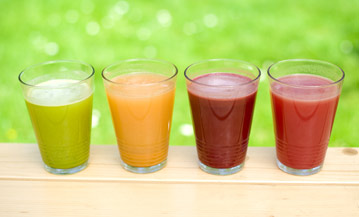 Mid Morning Smoothie
1/2 cup unsweetened pineapple
1/2 frozen banana
1/4 cracked ice
2 tbsp toasted almond butter
This smoothie is fruit based, with pineapple as its main ingredient. Not only is it tasty, but it is also healthful, largely due to the abundance of pineapple's vitamins and antioxidants. In addition, pineapple contains an enzyme called bromelain which helps in cancer prevention.
Morning Hangover Juice
3 medium-size tomatoes
2 celery stalks
1 lemon
1 1/2-inch piece of ginger
1/4 of one large cucumber
This juice is filled with some of the most essential nutrients that your body is depleted of after drinking the previous night. Among the other nutrient you will get enough vitamin C, lycopene from the tomatoes, and hydrating water. The alternatives might be to to try the traditional glass of buttermilk where you might add 3 drops of lemon juice. Aloe vera juice or coconut water also come to mind.
Morning sickness juice
is another important juice for pregnant women. Whatever you choose, make sure you never miss your dosage of healthy nutrition at the beginning of each day.