Taste Nirvana Real Coconut Water Review

If you truly want to experience the taste and refreshment of coconut water then you have to head out to Southeast Asia or you could order home a 12 pack of Taste Nirvana Real Coconut water. Nirvana founded in 2003 took it on as a mission to disperse the natural resource of Thailand to the world seeking to offer authentic real food experience in countries where Thai offerings aren't available. Even the plant they have to produce real coconut water is built around an environmentally conscious mantra. They recycle the coconut trees, using them as ingredients for ten long years and then as fuel to run their plants.
Features And Specifications
Available as a pack of 12 cans, it delivers the traditional taste of roadside stands in Thailand.
Premium grade coconuts harvested from groves of Ban Preaw, Nakorn Pathorn and Ampawa.
Only the largest and sweetest coconuts are farmed.
Exactly the same taste profile as a real coconut.
The Review
If you have tasted real coconut water in the past then you know the difference between packaged coconut water and the real thing. So many brands and companies promise to deliver the exact same taste only to fail. The Taste Nirvana Real Coconut Water on the other hand has a taste profile that is quite similar to the real thing.

Where many other brands either taste metallic, sour or too sweet, Nirvana's coconut water tastes just perfect, with the ethereal, slightly tangy but sweet nature of coconut water. It is as if you were storing fresh coconuts in the refrigerator. Best part is that this refreshing natural drink is available as a pack of 12 cans from Amazon and can be subscribed to for monthly or even weekly replenishments. Granted the brand isn't the most popular choice in many parts of the world but that is because awareness about the brand is low. Compared to competing brands though, it does have a stronger fan following possibly because of its unique natural taste profile.
The Taste Nirvana Real Coconut Water comes in two versions, one without pulp and the other with pulp. Both have a unique texture but taste exactly the same. The only difference is in the presence of pulp matter, which to some may appeal a lot.
Granted that many folks would rather have the real thing but when coconuts are shipped half way across the world and then refrigerated, you know they are using chemicals to help prolong the natural life of these delicious fruits. Yes, you do get the same thing as you would find on any Thai roadside stall but with extra chemicals to preserve them. Instead, with Nirvana's Real coconut water drink, you get only the juice within lacking any preservatives or artificial sweeteners. It is as if you were standing in Thailand and drinking out of a freshly cut coconut.
Nutrition Facts
Here are the nutrition facts of this product: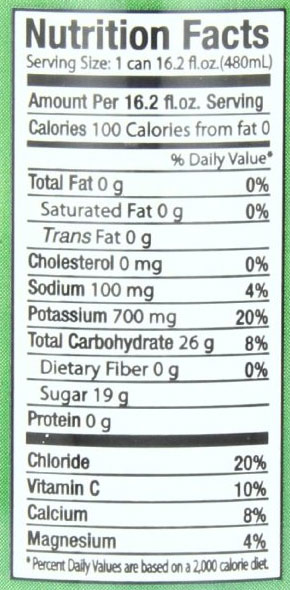 Taste Nirvana is an excellent source of electrolytes, fiber, iron and potassium. There are no artificial preservatives. This is a great hydrating drink that can bring a lot of potassium and iron to you daily diet.
Video
The Verdict
For those who miss the authentic taste of coconut water and swear by its rejuvenating effects, the Taste Nirvana Real Coconut Water is a godsend. This brand name delivers exactly the same realistic and natural taste profile without sacrificing on availability.