Breville BJE200XL Juice Fountain Review: Brings You Health and Gives You Joy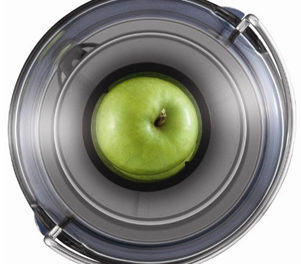 The Breville BJE200XL Juice Fountain Compact is one of the fastest and most efficient cyclonic juicer available on the market. It will do justice to those who crave the highest possible quality nutrients and look for maximum extracted juice volume.
Having a 700-watt motor operating at 13,000 rpm, this unit is packed with power. You can maximize the extraction of nutrients from your produce. The Breville BJE200XL features a double knife and places fruits and veggies over the center cutter. Then it filters them during mincing. They are then reduced to miniscule particles for easier processing.
Next, they are pressed against a stainless steel part on a micro-mesh filter to make more yield of juice. By comparison with other juicers you may get as much as 30 percent increase of juice yield.
If you demand from a juicer in your kitchen durability, ease of use, quick clean up, and excellent standards for nutritional quality, you would be on the right track looking at this model. This is one of the very best juice fountain extractors.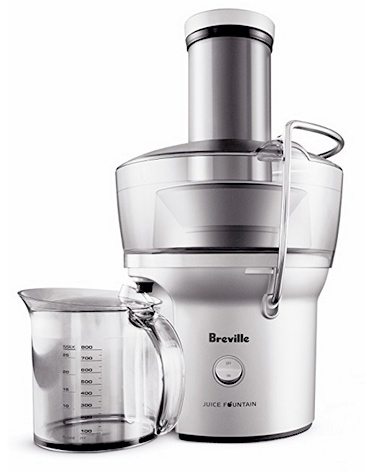 See Breville BJE200XL on Amazon
In no more than 5 seconds, the Breville BJE200XL will produce up to 8 ounces of liquid. And it has an easy to clean unit, designed to save you valuable time and that extra work most juicers require.
Ease of use and quick cleaning is one of the reasons people buy this machine so often. A unique design for a juice fountain, it is up to ten times faster than any other juicer on the market.
The incredible power it wields has earned it the description of "cyclonic." Another reason health lovers like having this in their kitchen is its pricing. This fast machine is capable of juicing a quart and a half of apple juice quicker than you can sneeze before it needs any emptying. It even hosts a cleaning brush for your convenience.
Breville BJE200XL Features
The word cyclonic may give you an idea how much power there is under this juicer. The cutter and filter are so effective and sharp that you can juice pineapples leaving the rind still on.
Entire veggies and fruits fit into the extra large feed tube (3.3 inch diameter) that is unique to the Breville BJE200XL. This patented feature is a one of the main reasons people seek out this especially practical kitchen appliance.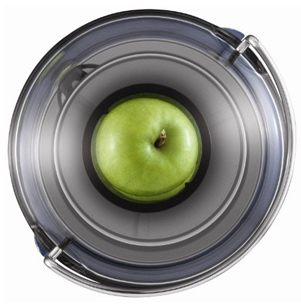 Some of the complaints about this machine focus around the extraction quality. Sure, you can always find an juice extractor that will do a better job of filtering juice from pulp, but they won't be easy to clean and use. This juicer cleans up in a dishwasher or by hand.
All things considered, this is a great juicer. I am sure you have purchased various kitchen appliances that you have used a couple of times and then you don't use them much because of the hassle associated with cleaning. This won't be one of them, that's for sure.
Sure, hands down there are juicers with drier pulp, but they may not be worth it, if it frustrates you every time you have to clean it.
The space saving design of this juicer can help your kitchen stay clutter-free, partly because Breville BJE200XL measures only 9 1/2 by 8 3/4 by 16 inches.
It also comes with a one year limited warranty. When searching for products similar to this juice extractor, you just need to read through the many reviews by folks who have been using this machine for years. And this brand has really huge amount of positive reviews. Consumer satisfaction is the best advertisement there is, which is why this juice extractor has gotten such good reputation and sold so many since its appearance on the market.
For the self healing practitioner on a special diet, for the health conscious cook, for the taste conscious gourmet chef, or for the newly wed complete cooking beginner – this heavy duty strong-yet-durable unit is a great choice.
It has been selling without a lag since it came onto the market. The most practical of those researched when looking into the cost effective brand and style for a full use kitchen and an active health routine, this is the one you can put into your shopping cart today without having to do an enormous amount of further research.
What's in the Package
cutting disc of stainless steel
pusher
juice jug
cover
juicer body with the motor
pulp container
spatula
brush
Positive Features

Speed – this juicer is capable of producing juice in seconds
Very easy to use
Large chute which means you won't have to pre-cut much
One of the bestselling juicers on Amazon with tons of positive reviews
Stable during juicing
Not So Good Features

Too much noise
Not so good for juicing leafy vegetables
Sucks in a lot of of air
1 year warranty
FAQ
Q: Is breville bje200xl dishwasher safe?
A: Just parts of it: the Surround of the Filter Bowl, Juicer Cover, and Pulp Container (top shelf only).
Q: Is this a masticating juicer?
A: No it is not. It is a centrifugal juicer. Masticating juicers are generally more efficient when it comes to juice yield.
Q: Where can I find replacement parts?
A: Check on the manufacturer's website here.
Q: Is this a good juicer for juicing wheatgrass?
A: Not really. You can try but the wheatgrass may fly away even if you use low settings. But if you juice alongside with other produce, then you might be fine.
Q: What's the noise level?
A: This juicer is quite noisy. The noise can be approximately 80 decibels. So be careful when juicing, as the impact on the people around you can be strong.
Q: What about the warranty?
A: You'll get one year of warranty.
Q: Is this juicer BPA free?
A: It is not clear whether the plastic components are BPA free or not.
Price
Some of the best prices you can find online are on Amazon and Best Buy, and the manufacturer's online store.
If you decide to buy it from Amazon.com, you can get free shipping and there is an option for one day shipping.
Useful Links
User Manual: PDF
Video
Specs
Refurbished
The Bottom Line
Matched by a quality service company who ensures a quick and problem free purchase experience, we are recommending to you this unique and efficient juicer without hesitation.
This product is for you if you are new to juicing because it is very simple to use with little settings to remember. All that's required is to feed the juicer via the wide 3 inch diameter mouth and enjoy the delicious juice that comes as a result of its impeccable operation.
Although the yield is not as great as with an masticating juicer, this unit cleans up very easily and makes a great juice. The price is also great, so there is no doubt you will enjoy it. Have fun with a new toy that brings you health and gives you joy. The Breville BJE200XL is available right now.