HUROM HZ Slow Juicer Review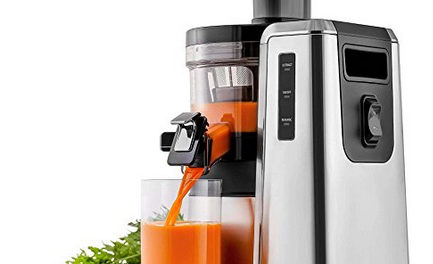 HUROM HZ Slow Juicer is one of the finest juicers out there. You will truly enjoy working with it.
It is very well made, and you will feel great extracting your cold-pressed juices. It does the job quickly and easily and it does that with style.

With its sleek finish of stainless still, and with its fancy LED indicators, the Hurom HZ model stands out among all the other juicers from the Hurom series.
If you care about the absolute quality of the extracted juices, there is no better machine than to use a slow masticating juicer.
What you would also love about this model is the fact that all plastic parts are Bisphenol A free. So your juices will be free from the harmful effects of this proven hormone disruption.
The Hurom HZ Slow Juicer, as a masticating juicer with a vertical setup, is very easy to use. Even more so because it has self cleaning capabilities. The self-cleaning part means that you don't have to disassembly the juicer and clean the individual parts as long as you want to switch to another recipe. You just need to pour some water and let the engine run for a while and you are good to go for the next healthy juicer recipe.
Most Important Points
Masticating Technology
This is Hurom's most advanced juicer that utilizes masticating technology. Let's see what that means: there are two main types of juicers, centrifugal and masticating.
The centrifugal juicers are more affordable, and you can buy one for as little as $40. If you are going to buy an expensive juicer, you will be better off looking for a masticating juicer. They are high-end juicers with prices well above $200. They are superior in the sense that they are much better built, they have higher juice yield, and they have more functions.
Masticating juicers usually have longer warranties (typically 10+ years), and are more user friendly in general. Their method of extraction is probably what makes them a better choice if you are looking for a quality juice. This particular model has a 10 years warranty on the engine and 2 years on the other parts.
Slow Squeezing Technology
Hurom's second generation of juicers are equipped with the co called Slow Squeezing TechnologyTM (SST). SST means that you are able to get 35% more juice than when using centrifugal high-speed juicers. It means you are leaving much drier pulp and less pulp in general.
This technology is designed to minimize damage to the ingredients that you want to make juice from. Rather than rotating with blazing speed (centrifugal juicers), the Hurom's juicer squeezes the ingredients slowly, thoroughly, and steadily. Thus, the natural taste is preserved and the enzymes, vitamins, and other nutrients are intact. In contrast, centrifugal juices are known to promote quicker oxidation of the nutrients. The reason is the high speed of rotation, which raises the temperature and promotes oxidation, which, in turn, damages the nutrients.
The HZ slow juicer has a speed of merely 43 rotations per minute (RPM). You can just compare this number with the average RPM of a centrifugal juicer: between 3,000 and 16,000. Huge difference! The spinning brush has even lower speed; it rotates at 17 RPM.
This technology therefore enables juicing very close to the natural frequency that people produce while hand squeezing juice.
Better Taste and Pulp Control

The Hurom technology is designed to help you extract juice with much better overall taste. The pulp is extremely dry but what you will like the most, you can use the lever to decide if and how much pulp you want to allow to enter the squeezed juice. It can be free of pulp, or filled with pulp. The latter is great for people with various medical condition and, for example, for anyone who wants to buffer the sharp rise of sugar in their bloodstream. The pulp also promotes better digestion and has other beneficial health effects.
Good for Hard and Soft Produce
With the Hurom HZ Juicer, you easily juice both hard and soft vegetables and fruits. That includes wheatgrass, dandelion greens, kale, parsley, spinach, collard greens, and other leafy greens, nuts, and other difficult to juice produce.
It goes without saying that this juicer can juice citrus fruits like oranges, tangerines, grapefruits, limes or lemons.
As far as hard produce goes, you can put into it garlic, carrots, beets, asparagus, fennel, sweet potato, pumpkin, cauliflower and other hard veggies and fruits. If you use the coarse strainer, it is easy to prepare puree from bananas, avocado, mango, strawberries, tomatoes, or pomegranate.
Quiet Operation
The AC motor is almost silent, working on just 150 watts of power. This is much less than the centrifugal juicers that by definition come equipped with noisy kilowatt motors. Not only will you enjoy your cold pressed juices, but you will also enjoy preparing them without the accompanied noise often heard in traditional juicers and blenders.
Pros
Great design
Low RPM for efficient juice extraction and reducing oxidation
Bisphenol A free parts
16 oz juice chamber
Pulp control lever
Ice cream strainer
Automatic cleanup
Low noise operation
Can juice wheatgrass much better than vertical masticating juicers
External pulp ejection
Easy to move around
LED indicators, indicating the mode of operation (extraction mode, reverse mode, etc.)

Safety lock system.

The engine won't start until locked properly to ensure your safety during the process of juice extraction.

Stainless steel finish
Are There Any Cons?
Some people complain that the mouth of this juicer is not as large (Chute Size is 2x 1.5 inches) as in some other juicers. They mostly refer to centrifugal machines with large cute sizes. But this really isn't such a problem, as it takes only one or two minutes more to chop your vegetables and fruits. Note that you won't need as much of them as when you use a centrifugal juicer, because here you have a much high juice yield.
People might also complain that this model is not dishwasher safe, that it is slow, or too expensive. These drawbacks are in fact a result of the masticating technology. All slow juicers have similar disadvantages, like having to chop the produce into smaller pieces and waiting for the machine to finish a little bit longer. Once you have tasted the extraordinary quality of the prepared juice, however, these drawbacks won't matter much.
The fact that this device is not dishwasher safe, shouldn't be worrying as well. It is easy to clean, and you don't have to clean it between uses, as it has the self cleaning feature. When you want to clean it more thoroughly, you can use clean water with soap and the provided brushes to remove pulp from the strainers. It is important to remove all the pulp residue on the strainer.
Useful Links

Demonstration Video and FAQ
Conclusion
Hurom HZ is certainly not a cheap juicer. Its high price point is justified though. For example, you can regulate as to how much pulp you want to let into your freshly squeezed juice. For more pulp you can mount the coarse strainer. For clear juices with less pulp, you can use the fine strainer. You can even make ice cream with the ice cream strainer.
Whom is it for? For everyone who wants to make an upgrade from their entry level juicer. Even if you have an older type of masticating juicer, Hurom HZ could be your next best choice.