Hamilton Beach 67650 Review – the Big Mouth Pro Juice Extractor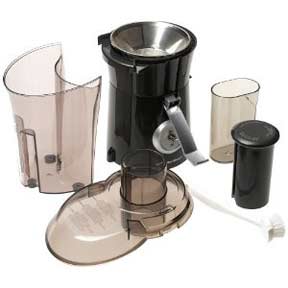 Fresh juices are just too precious. And life is too short to be missing out on them. As huge-freshly-made-juice fans, my family members and I recently took our time to research the best inexpensive juicers for our country house. We have a nice big apple tree there, and when the year is right, we get a lot of "juicy" fruits that we cannot possible consume in their raw form. So, we were looking for a way to juice the apples – quickly and efficiently – and extract all the healthy vital organic components contained therein.
Here is what came out of our methodical research – Hamilton Beach 67650 Big Mouth™ PRO Juice Extractor. As we immediately could see, this juice maker is incidentally one of the most popular Juicers on Amazon.com. Not without a reason.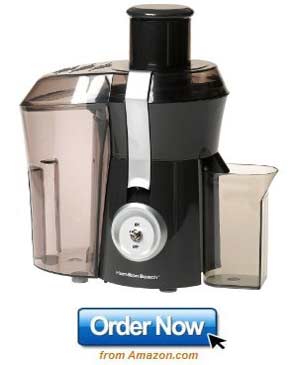 In the following we will review the features of this juicer and try to justify our choice for the best possible juice extractor amongst the huge variety of juicers out there.
The Need for Speed
The builtin 1.1-horsepower motor.
Why is it exactly important for a good juicer to have a strong engine?
A well projected juicer should have a motor capable of squeezing the fruits and veggies really, really good. The living essence of the plants is contained within the cellulose fibers. It needs to be extracted, digested, and made available to our cells and tissues. The remaining pulp should contain as little as possible of these vital drops.
With its sturdy 1.1-hp motor, this juice extractor processes the fruits and vegetables very quickly but at the same time quite efficiently. The juices are pulp-free by definition. This ensures that they will be digested extremely quickly by your digestive system- within 15 minutes. This way, your body gets all the needed nutrition fast and with ease. This is a healthy alternative (the only real alternative actually) to purchasing pasteurized juices, juices with added sugar and artificial sugar or to juices with added preservatives.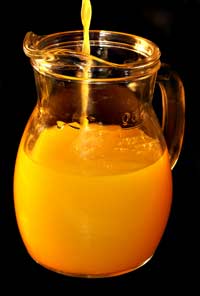 The on/off toggle switch what makes this juicer very convenient and user friendly.
Less Preparation Needed
When time is an issue, and time is always important, you will need to prepare your drinks as quickly and easily as possible. The wide chute allows you to put whole fruits and vegetables in this juicer. The large 3 inch wide feed slideway fits whole produce for faster juicing – only the larger apples need to be cut in half.
A good filter and strainer is always a part of a good juicer. The filter has to be able to catch the unwanted pulp and seeds. This is where the Big Mouth's efficient micro-mesh strainer basket comes in.
Make sure, however, not to push too much. Too fast extraction can result in less juice and more soaked pulp. Gently press down on the food pusher and be patient so that you get as much fresh juice as possible. The slower you go the more juice and less waste you get. It would be a shame to waste too much of the vegetables and fruits. Let the weight of the fruit or vegetable do the work.
The extracted juice goes directly into the 20-ounce cup. If you like you can drink it instantly or you can store it in the fridge for later use. (Don't store it though. Juices are the healthiest when consumed instantly.)
Abundance of Various Healthy Juices
What kind of healthy drinks can you make with it?
Hamilton Beach 67650 is able to accommodate a large variety of vegetables and fruits. For example, pineapple, kiwis, apples, oranges, melon, papaya, grapes, tomatoes, celery, carrots, spinach, and almost every other healthy nutrient rich natural product you can think of.
When it comes to wheat grass, (nowadays recognized as a source of very healthy type of juice) the things get tricky. Wheat grass is a though test for any juicer. If you really need to make wheat grass juice, then you have to go to other different juicing systems dedicated to that purpose. They are naturally more expensive and not nearly that productive. For instance, the excellent Samson Matstone Juicer
operates at low speed – in contrast to the centrifugal juicers (like the Hamilton Beach Big Mouth) that operate at very high speed. You will get a more quieter slowly rotating juice extractor designed for producing excellent wheat grass juice, but at much higher price.
Even with the Big Mouth Extractor you can use a nice trick to get around the problem of preparing healthy wheat grass juice. You can try to put wheat grass together with a chaff of celery or some other veggies and run the chopped leaves once again with very good extraction result.
Performance Pulp Bin
Cleaning and Care
There is a large detachable pulp bin for easier cleaning. The pulp is rich in cellulose fibers – very healthy for cleansing the gastrointestinal tract but a little bit more difficult to digest – so you need not throw it away. You can use it, completely or partly to flavor your dishes, – sauces, cakes, soups, breads – whatever you feel like it.
It would be perfect if there were juicers that didn't require cleaning, but the reality is different. They all need at least a minute or two of scrubbing. In this case you can just run warm water over the plastic components, and then pay some extra attention to the strainer. Here is where you need to do a little scrubbing with the supplied brush. If you do that diligently and promptly, it will be quite easy. If you, however, let it stay for say an hour, you would have more problems later, as the pores will clog up. The problem with the mesh basket is common to all centrifugal juicers though.
Be careful with the plastic components if the sink is crowded. The plastic parts are dishwasher safe.
What is the Best Price (or) How Much Should I pay for it?
At the manufacturer's web site, the juice extractor costs exactly $89.99 for the Model 67650H with 1.1 hp motor. However, make sure you check the price at Amazon.com
, as their offer is usually most affordable. The last time we checked it was well bellow $75. The folks at Amazon also have a wonderful option where some items ship for FREE with their Super Saver Shipping. The Hamilton Beach 67650 is one of such items that will enable you to save money.
One of the beast features about this Juice Extractor is that you will get a great deal for your money, and you will like the results. In our opinion, this juicer has one of the best benefit-cost ratios amongst the juicers overall.
What other people are saying?
The Hamilton Beach juices has received great reviews with a great average score on Amazon. In general, customers' comments are very positive and satisfied with their purchase.
What are the primary complaints?
Some users complain that they

don't obtain enough juice

, while at the same time the amount of pulp is abundant. This is a common case when one pushes too hard with the food pusher so that the centrifugal force is not given enough time to squeeze the vital substance and organic water out of the fibers. If you absolutely need to extract every drop of juice, you should opt for different juicing technology. If on the other hand you need a robust juice extractor for everyday use, the Hamilton Beach 67650 is the way to go.
Other users complain about the

cleanup process

. Yes, it can be tedious. And yes, it is so with every juicer. If you have to produce larger amounts of juice, getting rid of the pulp takes time. However, using a plastic bag to place in the catcher saves a lot of clean up time.
Others complain on the

noise

. Yes, it is loud. Yes, the noise can be compared to that of a vacuum cleaner. There is no compromise here. The strong engine makes a lot of noise, albeit for a shorter time.
Yet others find that there is some

jerking and bouncing

around. This happens when you put in less vegetables or fruits. You can minimize this problem by feeding the juicer, for example, with several carrots at the same time instead of just one by one.
Whatever you do, try not to be fooled by the scary stories about juicing in general. Especially don't be scared by the popular belief on the difficulty of cleaning, or how much of the fruits/veggies are wasted in pulp, etc. It is worth investing some time to prepare those fresh, delicious, youthful, vital, organic and utterly healthy juices.
Where can I buy the Hamilton Beach 67650h juicer?
You can purchase this juice extractor online at Amazon.com. Presently they include free shipping and have the best deal on this product that we are aware of. Click here to view it on Amazon.
Are there more reviews about this juice extractor?
The most relevant source for reviews is Amazon where there's to date over 350 reviews from people owning this juicer. Click here to read more about their impressions.