Aloic Organic Aloe Vera Drink Review

Aloe Vera is one of the most striking medicinal plants gifted by nature. Some people consider it a kind of portable first aid kit because a fresh leaf from this plant can heal cuts, stings and bruises, as well as soothe sunburns. However, the true power of Aloe Vera lies in the fact that it truly offers a huge variety of nutritional health benefits – the Aloe Vera juice is filled with minerals, vitamins amino acids, enzymes, phytonutrients, glyconutrients, polysaccharides and phenolic glycosides.
If you want to assimilate this huge variety of nutrients and at the same time enjoy a delicious, refreshing juice there is a solution – the new AloicTM Organic Aloe Vera Drink.
Product Description
AloicTM Organic Aloe Vera Drink is a USDA certified organic Aloe Vera juice. It contains about 95% of Aloe Vera and only 60 calories per serving, with no artificial colors or preservatives. For better taste, it is sweetened with organic cane sugar and flavored with natural grape flavor.
AloicTM Aloe Vera drink is made from natural Korean Aloe Vera plants. It is in fact a fusion of organic Aloe Vera juice and added pulp for extra taste and texture to it.
AloicTM Organic Aloe Vera is a product of Epicurex LLC. This company has three locations worldwide, with its headquarters in North Miami Beach, Florida. The mission of Epicurex LLC is to bring the exotic tastes of Asia to the rest of the world. Their products are all-natural, USDA certified, organic and contain no GMOs. They not only taste great but also contribute to a much healthier lifestyle.
Let us examine first the health benefits of this plant.
Health Benefits of Aloe Vera Juice

The Aloe Vera plant contains more than 70 beneficial nutritive substances. The biologically active components of Aloe Vera juice show a broad range of beneficial activities: anti-bacterial, anti-viral as well as significant antioxidant activity. They are also anesthetics (reduce swelling and itching).
The antioxidants of Aloe Vera boost the immune system, help in blood pressure regulation and improve cardiovascular health. Acetylated mannose – a substance found in Aloe Vera – has been shown to effectively stimulate the response of the immune system and to possess anti-viral properties.
Aloe Vera juice contains high concentrations of Vitamins A, C and D, as well as group B Vitamins.
In addition, Aloe Vera promotes the proper gastro-intestinal function. Thanks to the presence of aloin and barbaloin, Aloe Vera juice is a very good laxative and stool softener. Traditionally, it has been used as a remedy for constipation.
Another beneficial property of Aloe juice is prevention and treatment of cancer. The main ingredient of Aloe Vera held responsible for this cancer-inhibiting activity is a nutrient called aloe-emodin.
According to a recent study, drinking aloe vera juice can help patients suffering from ulcerative colitis. Ulcerative colitis is an inflammatory bowel that affects the lining of the large intestine. Peptic ulcer is a defect in the lining of the stomach or the small intestine and drinking aloe vera may have a soothing effect in patients suffering from this condition too.
Improved skin health (moisturizing and restoring the energy of skin cells) is also one of the important benefits of aloe vera juice.
Who Can Benefit From This Aloe Vera Drink?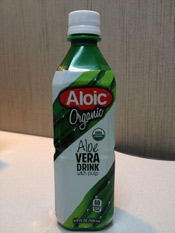 Short answer – everyone. If you try to loose weight, the phytosterols in Aloe Vera are especially good for reducing the visceral fat accumulation. If you are an athlete, the nutrients in Aloe Vera are great for soothing joint pain and muscle exhaustion. Pregnant women can benefit greatly from ALOICTM Aloe Vera because of its ability to promote proper digestion. Aloe Vera is also great for promoting senior health – it reduces the levels of LDL (bad) cholesterol and triglycerides, it has a number of potent anti-inflammatory properties and possesses a high antioxidant activity. Last but not least, kids can certainly benefit from AloicTM Aloe Vera organic drink, which is greatly superior when compared to any sugary soft drink or even sugary fruit juices.
Where to Buy AloicTM Aloe Vera?
The absolutely best place to purchase AloicTM online is Amazon.com. Currently, you can buy a pack of 20 – 16.9 oz – containers for as little as $2.50 per container. (Click here to buy directly from Amazon)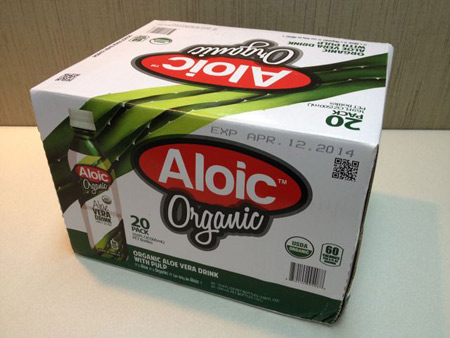 Alternatively, if you have any additional questions or dilemmas you can check the manufacturer's website: www.aloic.com
Conclusion
Usually if a drink tastes good, it is not so healthy. And the other way around – most of the healthy drinks are not so delicious. But Aloic™ is an exception to the rule. It both tastes great and is very healthy.
Unless you grow your own aloe vera plants and want to engage yourself into the complicated process of preparing your own home made aloe vera juice there is no alternative to choosing AloicTM Organic Aloe Vera as your favorite healthy drink.