Juicing Fasting: The Miracle Transformation of Joe Cross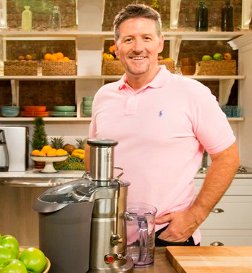 In case you never heard of Joe Cross, let me give you a short introduction into his life story. A lot of people find it inspiring and life changing.
A couple of years ago Joe was 100 pounds overweight, loaded up on steroids and was suffering from a painful autoimmune disease. The symptoms of this disease were being managed by a strong steroid with a number of side-effects, including stomach ulcers, depression and weight gain.
In the mirror Joe saw a 310lb man with gut bigger than a beach ball. He had one foot already in the grave, the other wasn't far behind.
Realizing that in the long run conventional medicine can do little to help him, Joe decided to take things in his own hands. Joe understood the natural ability of his body to heal itself. He also had acquired a fair amount of knowledge about the devastating effects of processed food and essential value of plant based diet. What was missing was a plan for action.
Joe committed to spend 60 days on a juice fasting program. He decided to consume nothing but the fresh juice of fruits and vegetables and see what was going to happen.
He bought a Breville Juice Extractor and drove across America, juicing along the way. During those 60 days Joe was exploring the country, talking to people about their attitudes toward food and drinking freshly made fruit and vegetable juices. He documented all that in his documentary film "Fat, Sick and Nearly Dead".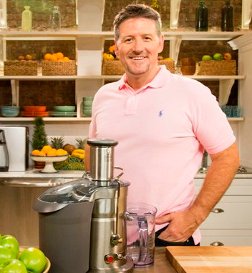 The movie, in essence, shows his amazing transformation from a fat and sick guy to a a totally different person. He ended up being almost 100 lbs. lighter. More importantly, he discontinued taking all of his medications and brought his autoimmune condition under control. He was filled with energy and his mind become astonishingly clear. Probably the main achievement of the reboot program was his his ability to take control of his life and health once again and to be able to consciously decide the direction of his future life.
Joe's message is that everyone can reboot their life using the healing powers of nature and remains determined to using mainly fruits and vegetables in his daily diet.
FAT, SICK & NEARLY DEAD is an inspiring film that chronicles Joe's personal mission to regain his health. Here is the extended trailer.
In case you would like to watch the entire movie you can follow this link. You can also visit the official site of Joe Cross here: http://www.fatsickandnearlydead.com where you can find more about his program.
At the end I would like to share with you how surprised I was when I discovered that a friend of mine (a guy who never before showed any interest in juicing) changed his mind after watching the Joe's film. He bought the juicer Joe recommended and to my surprise start preparing vegetable juices. There is no better invitation for you to go and watch the entire movie and start changing your entire eating habits right now. Cheers.