Why Fruits are not as Healthy as Vegetables: Infographic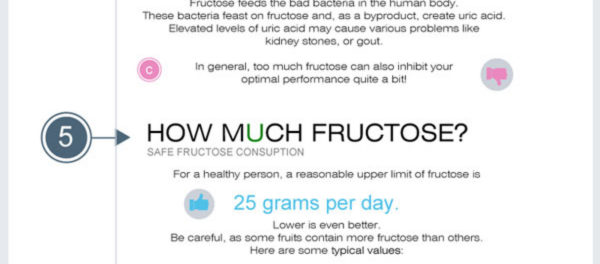 View a larger version of this infographic
Share this Image On Your Site
Here's my take on this Infographic
Don't put fruits and vegetables into the same category. How many times have you heard eat more fruits and vegetables? Too many, right. But it is not a good advice. It turns out fruits are

not as healthy as veggies

. The reason is their relatively high sugar content. Sure, they have some fiber. Sure, they have some nutritive substances. Sure, they have some vitamins. Sure, they have organic water. But the adverse effects of the sugar content outweighs everything else.
The main form of sugar is Fructose. Fructose is actually what makes ordinary sugar sweet. Ordinary table sugar is half fructose, half glucose. And fructose is the worse part. You ask why? Well, because of the ways it is metabolized in the body. It has to be metabolized by the liver, unlike glucose, which is metabolized in the body. So fructose is metabolized almost entirely in the liver, where it is used to replenish the glycogen (form of glucose) or produce triglycerides (fats).
Fructose increases the appetite. Like any other form of carb, fructose is not satiating. Very quickly after consumption, it promotes food cravings. If you want to reduce your food cravings eat more healthy fats as well as moderate amounts of proteins. They are much better for that.
Fructose creates advanced glycation end products (AGEs). By linking to protein molecules, fructose creates toxic substances responsible for accelerated aging, oxidative stress, and atherosclerosis.
Fructose feeds the unhealthy bacteria in your guts. For optimal health, you would want to reduce the amount of unhealthy bacteria, and increase the amount of healthy bacteria in your stomach.
Limit your daily consumption of fructose to less than 25 grams. There are fruits that are high in fructose, like raisins, dates, and figs. Instead to satisfy your need for sweet food, use low fructose fruits, like berries (chokeberries are our favorites). Beware of the obvious as well as hidden sources of fructose too. Keyword to be afraid of HFCS, that is, high fructose corn syrup.