Wheat Free Paleo Bread Recipe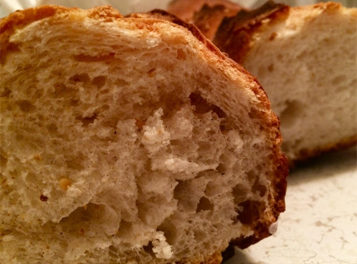 Paleo bread with no grain-based flour – but it's actually easier to work with…
One of the wonderful things about eating a Paleo diet is the forgiving nature of things when baking any types of almond-based or coconut-based bread (there's a Paleo bread recipe below).
People often ask Is bread bad for you?. Only if it's grain-based, is the answer,
I think back to the days of my Mum who seemed to be endlessly making sponge cakes and scones and whatever else.
There was a certain "science" attached to whatever she did.
Some things had to be:
carefully folded
others whipped
eggs beaten, then added by making a well in the center
dry ingredients sifted
fruit cakes or wedding cakes dropped from a great height before cooking in order to level them (it's true!!)
And so it would go on!
Even the temperature of the oven had to be just right – too low and things wouldn't rise, too high and they'd burn, open the door and sponge cakes would flop – too, too much!
Who has time for that detail or precision?
Certainly not those of us who are holding down a job, taxiing kids around, and doing the many other maternal chores as well as ensuring that our family is Paleo well-fed!
Cakes and biscuits truly paleo?
Although cakes and biscuits are not a huge part of a truly Paleo diet, it would be fair to say that many of us do hanker after the odd snack or two, and that is fine.
As long as we keep within the Paleo bread constraints (i.e. not using flour or other grains, or simple sugars), baking the odd treat is A-OK.
The bonus, to my way of thinking, is that it's a way of cooking that is kinder to the busy Mum, forgiving towards those who are either less than vigilant or who lack the willingness to conform to fine detail (folded not stirred and the likes!) and remarkably, almost everything ends up on the plate looking edible and tasting really good.
Don't make TOO much – you'll just eat it…
The bonus of eating Paleo bread is that it is both satisfying and nourishing. You actually can't eat too much of it – you'll just get full up (great for weight loss).
I'm thinking that my Mum would have loved Paleo bread recipes. As children we used to devour almost all of her baking after school, and she always threatened not to bake anymore, because in her words, "…you'll just eat it!".
I wonder what she REALLY wanted us to do?
Here's how to make Paleo bread– then you can repackage as you see fit…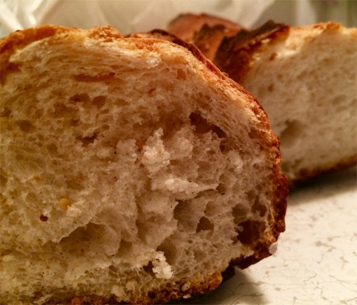 Below is Robb Wolf's basic recipe for Paleo bread. Robb is an internationally recognized expert in the Paleo way. His books are globally acclaimed, and his budget shopping guide helps you to start eating well without breaking the bank.
This is a staple in our house. The beauty of the recipe is that you can add and subtract as you see fit.
Keeping the same amount/ratio of almond (or coconut) flour, baking powder and eggs, is imperative. The rest is up to you.
Dates work exceptionally well with this recipe, as do sun-dried apricots.
I also tend to use only one tablespoon of organic honey as we prefer things less sweet.
At last! A recipe!
Paleo Banana Bread
Ingredients:
2 cups almond flour
¼ cup flaxseed meal
2 tsp cinnamon
1 tsp baking soda
1 tsp baking powder
2/3 cup chopped nuts (I used pecans)
4 really ripe bananas (mashed well)
2 tbsp organic honey
4 eggs
1 tsp vanilla extract
Directions:
Preheat oven to 375 degrees F.
Sift the dry ingredients together in a large bowl.
In a separate bowl, add the mashed bananas, eggs, honey, and vanilla and mix well.
Make a well in the dry ingredients and pour in the wet ingredients. Stir until combined. Normally with breads or muffin recipes, you don't want to over-mix, but since there's no gluten here, mix to your heart's content. The muffins won't get gummy or icky.
Three quarters fill greased muffin tins, baking cups, or mini-loaf pans. Bake muffins for 23-25 minutes, depending on your oven, until a toothpick inserted in the center comes out clean.
Let cool slightly and enjoy with a pat of almond butter, coconut oil or organic butter.
Nothing can go wrong…can go wrong…can go wrong…
And just as a little aside. Let me tell you, I made these muffins in a hurry one day, and didn't grind the nuts well enough.
I also overcooked them and so they were a little dry. Quelle dommage! Sacré bleu!
But wait!
With the ones left over, I put them in my food processor, and beat them to a pulp (figuratively speaking)!
Then I added some melted organic coconut oil, some organic dark chocolate, and 1 tablespoon of cacao powder, mixed them together, then spread the mixture into a shallow dish and refrigerated it.
The next day I cut it into squares – Paleo brownies – what a treat!
You will amaze yourself at the versatility of this basic Paleo bread mixture. Get more ideas from This Paleo Book – a must-have inclusion in your food ideas library.