Paleo Muffins — the Muffin Evolution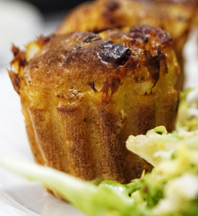 Paleo muffins joke of the day…
One day, an engineer was crossing a road and a frog caught his attention and called out to him. The frog said, "If you kiss me, I will turn into a beautiful muffin".
The engineer bent over and picked up the frog.
The frog spoke up again from inside of his pocket and said, "If you kiss me and turn me into a tasty muffin, I'll stay with you for one whole week."
The engineer took the frog out of his pocket, looked at it, smiled, and put it back to the pocket.
The frog then spoke up again with a louder voice, "If you kiss me and transform me into a muffin, I will stay with you and do WHATEVER you want."
Again the engineer looked at the frog, and returned it into his pocket.
Finally, the frog asked with an angry voice, "What is the matter with you? Haven't I told you I'm a beautiful muffin. I'm ready to stay with you and do whatever you want. Why won' t you kiss me?"
The engineer said, "Look I'm an engineer. I don't have time to eat a muffin, but a talking frog, now that's cool."
My point?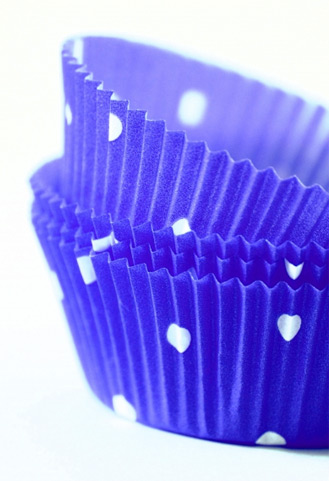 The question is, supposedly, how attractive can a Paleo muffin be?
Well, everybody knows the Western world loves muffins!
Those soft, sweet kinds, that bear some resemblance to cup cakes, but which in recent times, have grown so much fluffier, sweeter – and LARGER.
How many times have you been to a party recently and the cake was a giant muffin! I have seen a lot of them. Such is the obsession with muffins! Not to mention the appalling, sugary muffin toppings that necessarily force themselves upon your consumption!
In time, muffins have changed a lot! Several decades ago, a muffin was more of a yeast bread roll. It was certainly round and flat, but not sweet. In winter people would toast them and spread lots of butter on top whilst still warm. They were truly quite comforting in cold weather.
You can have your muffin and eat it too – if it's a Paleo muffin. By definition, it will be a healthy muffin.
So how can you still enjoy a muffin, and stick with Paleo?
Well you CAN! Easy peasy.
The texture and level of sweetness will be quite different, though, to the traditional muffins, as Paleo muffins don't use flour or sugar.
What's in them then? Patience – there's a super Paleo muffin recipe example below.
Paleo Muffins are Filling
What you will find with Paleo muffins, is that they are satisfying. A Paleo muffin for breakfast is quite a nutritious meal, certainly far more nutritious than the myriad breakfast cereals that so many people apparently love.
If you can get your children to enjoy Paleo muffins, forget worrying about their energy levels for learning at school.
As a teacher I can attest to this!
Believe me, once you have tasted this one by Robb Wolf (leading expert in the Paleo way), you will be hooked.
Robb Wolf's classic…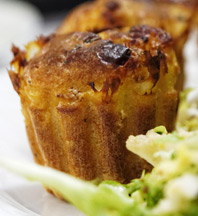 Some folks think you have to spend up big to pursue this Paleo thing. Not so! Get a Budget Shopping List to help you keep your hard-earned money in your pocket.
Here is Robb's classic muffin recipe, and I'm sure it's the one you will like a lot. The great thing about it is you can use your imagination to home in on your specialty – what a tasty journey.
As an example, try substituting bananas for pears. I've even used apples and berry fruits with success. One surprisingly good variant is to add extra cinnamon – love the spice. Try your own favorites – surprise yourself!
Here's the go – a Paleo muffin recipe by Robb Wolf:
Ingredients:
2 cups almond "flour" ("meal" it's often called)
1/4 cup flaxseed meal
2 tsp cinnamon
1 tsp baking soda
1 tsp baking powder
2/3 cup chopped nuts (I used pecans)
4 really ripe bananas (mashed well)
2 tbsp organic honey
4 eggs
1 tsp vanilla extract
Method:
Preheat oven to 375 degrees F.
Sift the dry ingredients together in a large bowl.
In a separate bowl, add the mashed bananas, eggs, honey, and vanilla and mix well.
Make a "well" in the dry ingredients, pour in the wet ingredients then stir until combined. (Normally with breads or muffin recipes, you don't want to over-mix, but since there's no gluten here, mix to your heart's content. The muffins won't get gummy or icky.)
Three quarters fill greased muffin tins, baking cups, or mini-loaf pans. Bake muffins for 23-25 minutes, depending on your oven, until a toothpick inserted in the center comes out clean.
Let cool slightly and enjoy with a pat of almond butter, coconut oil, MCT oil, or organic butter.
Enjoy!
Summary
Paleo muffins (and Paleo pancakes) are only the beginning. Treat yourself to a cornucopia of eye-popping recipes in Against All Grain: Delectable Paleo Recipes to Eat Well & Feel Great. Also, get educated. No better place to start than with Robb Wolf.
About the Author
Guest post by Maria.