The Best 5 Natural Drinks for Fast Weight Loss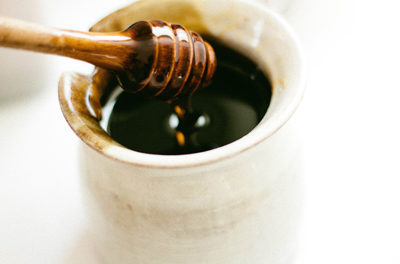 Honestly speaking, we all want to lose that extra pound if that is all it costs to firm up our bodies in the places we need it the most. Numerous alternatives have been praised for their results in weight loss. These include feeding on clean foods alongside grueling physical exercise regimens.
While these options might work for you, they are not the only solutions to fast weight loss. There are natural drinks which can help you to get that trim physique of your dreams. Furthermore, natural drinks to weight loss have proved to be an easy and convenient way of fast weight loss. Indeed, most weight loss experts, as well as those trying to lose weight quickly, are giving them a try.
So, would you love to lose weight fast with these homemade drinks? If so, then you need to know the top natural beverages which promote fast weight loss. Worth noting if the fact that these drinks are all natural and they are good for the body as they have no side effects which come with processed drinks for weight loss.
Now, let's start the journey to you're a fit and healthier lifestyle, shall we?
The best five natural drinks for fast weight loss
1. Organic Raw Honey
Don't we all love to eat honey for its sweet taste? However, you should know that this food has a host of nutritional benefits for a healthier and fit body. There is a strong link between organic raw honey and fast weight loss.
How much have you wanted to drop a dress size, or to put on your new pair of jeans that you already have outgrown? The trick here is a spoonful of honey before bedtime for three consecutive weeks. You could take honey directly from the jar, or you may mix it in a glass of warm water. Based on hibernation diet theory, there is a close relationship between weight loss and fructose-rich honey.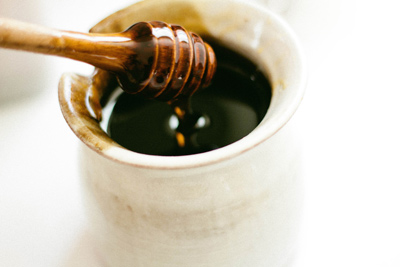 According to Mike McInnes, the author, and founder of the honey diet, athletes who feed on foods with sufficient fructose deposits including honey achieve higher fat burning and they have elevated levels of stamina. From his discovery, it has been noted that raw honey is a perfect fuel which triggers the liver to produce glucose. Such glucose is vital in keeping the sugar levels in the brain high. As a result, the brain is forced to send signals for increased production of fat burning hormones.
To get the best results from the honey diet, simply shortchange your intake of sugar with raw honey every day. This diet allows you to feed on family delicacies including puddings and biscuits which are backed using raw honey instead of processed sugar. Why not lose up to 3lbs in seven days? Combine this diet with an exercise regimen and realize even better weight loss outcomes.
Recipe
Dissolve two to three organic raw honey tablespoons is cup containing hot water.

Drink its contents before retiring to bed.
Optimal weight loss outcomes are achieved when you take this drink every day.
2. Salt Water Cleanse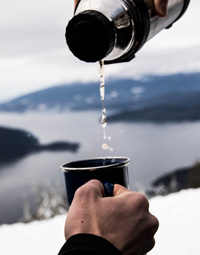 If there is a natural drink alternative for weight loss that many celebrities have sworn, it is the salt water cleanse. If you are someone who would try any safe and natural drink for quick weight loss results, then I would recommend you try this drink. Even though salt water ought to make a permanent aspect of your diet, it is associated with significant weight loss outcomes in the short term.
Notably, if you wish to lose weight as a result of effects of water weight, then the salt water cleanses the perfect alternative for you. Plus, it will ease on your bloating problems and help you stay fit for your upcoming event.
As Dr. Axe reveals, salt plays a vital role in enhancing the clearing up of fluid retention. When one uses sea salt, and not processed, mineral-free salt, they lose extra, fluid-related weight since the salt enables the body to achieve a perfect balance between mineral levels and electrolytes in the body which forces your body cells to release any extra water they could be holding onto.
Recipe
Pour 500mg of hot or warm water into a cup and add two sea salt teaspoons.

You may add a slice of lemon for taste neutralization.
For the best weight loss outcomes, take this drink once every morning before eating your breakfast.
3. Coconut Oil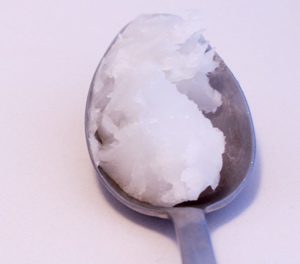 If you are thinking of super-foods for weight loss, then you should consider the potential of coconut oil. Organic coconut oil has numerous nutritional benefits which have a direct impact on the ability of the body to lose weight. These benefits are justified by the long-standing traditions of tropical cultures as well as scientific research. From thyroid health to increased metabolism, coconut oil is just perfect for fast weight loss.
Coconut oil enhances your energy levels. The oil primarily contains MCT lauric acid; essential fatty acids which are transported to the liver upon which they undergo quick conversion into energy instead of storage as fat thereby minimizing chances of body fat accumulation.
During the conversion of MCTs into energy, ketone bodies are formed, and they are associated with reduced cravings and hunger. This, in turn, minimizes your intake of calories.
Research also shows that coconut oil plays a significant role in the burning of belly fat. Coconut oil increases digestions and nutrient absorption. As a natural mood elevator, coconut oil is associated with the reduction of stress-related weight and improves your motivation to undertake cardiovascular exercises to help your body to burn stored fat fast and consistently.
Recipe
Since coconut oil could be in solid form, you need to liquefy it by adding 1 or 2 tablespoons of the oil in a mug of hot water.

You may also add it to hot herbal tea or bone broth.

Stir the contents and drink.

Repeat this process once each day.
4. Apple Cider Vinegar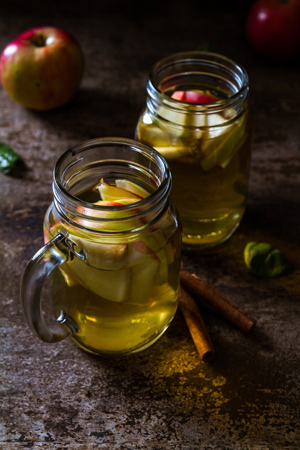 A more transparent skin, healthier hair, weight loss… apple cider vinegar does it all for you! Surprisingly, most people have only recently noticed and started using this gem for their nutritional needs. This ingredient enhances your regular rate of metabolism and promotes super-fast fat burning speeds since it contains an acid and enzymes. With its rich content of pectin, apple cider vinegar makes you feel satiated for longer.
As the Arizona State University Nutrition Department confirms, apple cider vinegar minimizes the calorie intake among dieters from between 275 and 200 calories daily. Apple cider vinegar makes dieters stay fuller and more satisfied over a more extended period. The acetic acid present in this drink enhances weight loss.
Apple cider vinegar will discourage your water retention as it eases bloating to enhance a feeling of hydration.
Even though you might find the taste of this drink unusual, the weight loss outcomes are worth giving it a try.
Recipe
Add two natural apple cider vinegar tablespoons into a glass of 500ml of clean water and stir the contents.
For optimal weight loss, take the drink daily, just before your three main meals.
5. Fruit Infused Water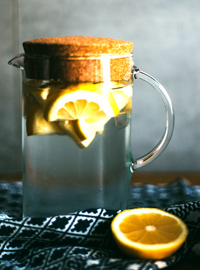 I bet you have heard this often: drinking adequate water helps your shed weight. Probably, you are uncertain whether this supposition is true. Let's look at the nutritional benefits of drinking enough water.
Water enhances your metabolic rate
Water serves to suppress your cravings and appetite
Water helps to flush out toxins and cleanse the body
Water discourages fluid retention
The result of these benefits is a better ability to lose weight. However, you must drink between eight and ten-ounce glasses each day to enable the body to lose weight. If that sounds like a bit of a challenge, then fruit infused water will be of great help.
Personally, in addition to their nutritional and weight loss value, I love fruit infused water for their yummy taste and ease of preparation. All I need is my drinking water, favorite herbs, and fruits chopped to size. By adding these flavors to my drinking water, I also benefit from the host of nutrients present in the fruits and herbs for better weight loss and increased water intake. Choose a fruit infuser water bottle and start today!
Sample Recipe
Slice half a cup of pineapple and an orange thinly, and add the slices to the separation chamber.

Add your drinking water and shake.
Ensure that you drink eight to ten ounces of water daily for optimal weight loss results.
Which natural drink do you prefer? What are its weight loss benefits? Kindly share its recipe with us. As always, we love to share.
Author Bio: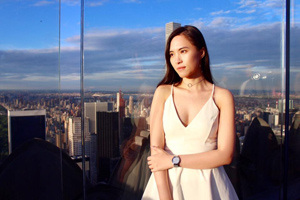 Amelia is a writer/editor with an endless passion for bringing a lot of useful and trustworthy information to the community. She founded stayhealthyways.com, a blog dedicated to sharing quality articles related to health, nutrition, fitness, and beauty. As a typical introvert, Amelia is a perfectionist in work. At times of leisure, she reads, listens to music, chats with some close friends and walks with her pet.
Contact info: