What to Look for When Choosing a Commercial Juicer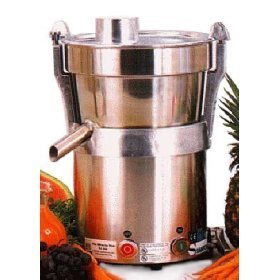 This is a guest post by Jeff Breeden from CooksDirect.com.
Whether you're opening a juice bar, or if you plan to add more healthy fruit and vegetable juices to your menu, or even if you've got a large family or other close-knit group to supply with delicious juices, you need a powerful commercial juicer that can withstand the rigors of constant operation.
Main Features and Benefits of Commercial Juicers
Commercial juicers are capable of making large amounts of juice on a fairly continuous basis. In general, these juicers are designed to extract as much juice as possible from fruits and vegetables, leaving only dry pulp behind. This ensures you get a good return on investment and prevents excess waste.
The type of juice you plan to serve determines whether you need a juice extractor that works with fruits and vegetables alike, or if a heavy-duty citrus juicer will do the trick. Some citrus juicers are capable of handling whole, unpeeled oranges, grapefruits, lemons, and limes. These juicers are best for operations offering pure organic juices, as you don't want pesticides and other chemicals ending up in the juice you are serving to your customers.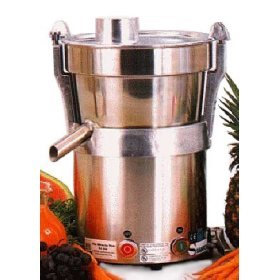 When comparing commercial juicer models, check to see how easy it is to clean and maintain the juicing machine. If the cleaning process is complicated, keep in mind that staff will need to spend extra time keeping the machine clean, which can cut back on the amount of time they spend working to keep customers satisfied.
As a general rule, commercial juicers are sturdier than household units, which is why they tend to cost more. Their motors are much more powerful, and their body construction is more solid. They are available as either countertop units or floor standing models; consider where you plan to place your new juicer as you are making your comparison. If space is a major consideration, be sure to measure the area you plan to use to set up your juicer before you make a commitment to purchase the appliance.
Remember to take the overall design and look of the juicer into consideration, too. If customers will be able to see it in operation, be sure you choose one with an attractive look, and pick a model that workers will be able to spot clean on a consistent basis. In addition, consider the noise level; too loud, and the juicer could be a detriment to your establishment's atmosphere.
Additional Considerations
As you compare juicers side by side with one another, take a look at yield. How fast will the juicer produce a set amount of juice? How will this affect the way you serve your customers? How often will you need to empty the juicer's pulp collector?
What will the quality of the juice produced be like? Most people like just a little pulp, so err on the side of caution by selecting a juicer that produces juice with a small amount of pulp rather than one that tends to produce lots of pulp.
Finally, look at the fine print. Consider the warranty period, and choose a juicer with a solid warranty available. Don't forget to take price into consideration, but remember that commercial juicer prices are often tied directly to unit capacity. These juicers normally begin at around $500 USD, and can cost as much as a few thousand dollars. If you plan to serve a lot of juice, your new commercial juicer will pay for itself fairly quickly – and the better the juicer, the longer it is likely to last.
Jeff Breeden offers the latest information and resources in commercial cooking and restaurant service at CooksDirect.com. For more information on commercial convection ovens, commercial juicers and more, visit CooksDirect.com.