4 Good Reasons You Should Consider Eating Raw Blackberries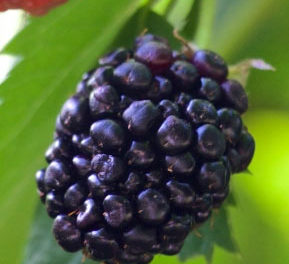 One of the sweetest treats you can eat during the late spring early summer are blackberries, which are easily identifiable by their blue-black or deep purple color. It's a fruit loaded with nutrients that can be eaten fresh or made into sauces, jellies, and jams. However, I recommend eating them in their raw state only and without added sugar.
For me, blackberries, along with all the other berries, lemon, lime, and avocado, are the best fruit varieties to be consumed. They are on the top of the list of safe fruits, the bottom being reserved for tropical fruits, raisins, and dried fruits.
And, even if you don't want to eat fresh blackberries, there's the option of adding them to your smoothies or blackberry juices. It will take you quite a few blackberries to get one cup of fresh blackberry juice. In fact, you will need three cups of fresh black berries.
To all honesty, three cups might be too much. If you are going to juice them, to my mind a far better option is to juice much less of the amount indicated and fill the rest of the cup with quality clean water. And why throwing away the beneficial pulp and fiber?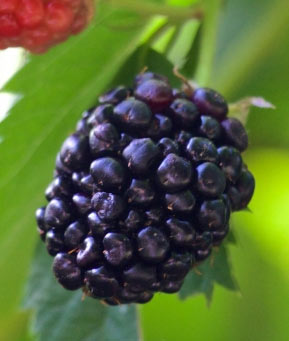 I personally, never juice them. Rather, I use a couple of blackberries to add some sweetness to my green smoothies. Either way, don't ever spoil the end product by sweetening the juice or smoothie with sugar or artificial sweeteners – enjoy the natural flavor instead.
What Are The Four Key Benefits Within Blackberries?
Antioxidants
This fruit comes loaded with anthocyanins – deemed a natural antioxidant and a universal colorant. These compounds are represented by over 600 identified molecular structures as to date. They're also responsible for the dark color blackberries have, and are found in other fruits such as pomegranates, blueberries and strawberries.
There is a huge body of evidence for an array of benefits of fruits and vegetables. Various studies have shown that this antioxidant can help to prevent heart disease, reduce diabetes symptoms and have both anti-carcinogenic and anti-inflammatory properties.
Folate
Just one serving of blackberry juice contains more than 100 micrograms of folate… 27 percent in dietary needs for adults and 21 percent for breastfeeding and pregnant women. Folate is also called vitamin B-9. Folate boosts the immune system, to ensure the body can better handle stress and help break carbohydrates down so the body can use them for energy.
This B-vitamin is important in keeping up the body's emotional and mental well-being, brain function, and assist the body to generate DNA. It's also necessary for times of rapid development… usually a result of pregnancy.
Still, don't just rely on blackberries to get enough folates. Take some other natural folate-rich foods, such as organic grass-fed beef liver. When supplementation is needed, look for Folinic acid, not Folic acid. The former is the metabolically active type which is found naturally in food, and it need not be converted by the enzymes in your body to become active.
Potassium
Just one cup of blackberry juice contains 700 milligrams of potassium, which equates to 15 percent of an adult's recommended daily consumption of potassium. For breastfeeding and pregnant women, it's 13.7 percent of the daily consumption amount. What's potassium? It's the electrolyte that keeps the body's acid-base in balance and controls the electrical activity within the heart.
The body needs the potassium in order to strength the muscles and ensure healthy growth.
Vitamin C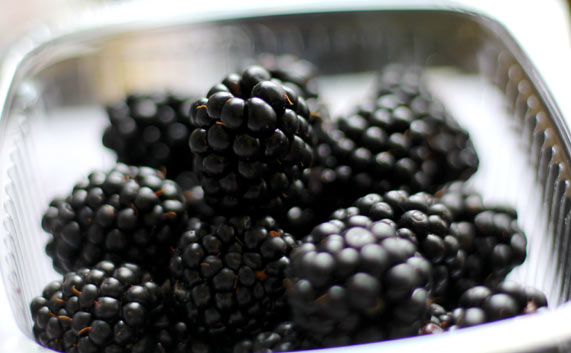 Vitamin C is probably one of the best-known and best-established antioxidants that we know of. After all, who hasn't heard of vitamin C, right. There is no question that it has potent benefits for human health, especially when it comes to preventing and treating infectious diseases.
Interestingly, most animal species are capable of producing vitamin C internally. Along with Guinea pigs and primates, human beings are the only ones that have to get their vitamin C externally, from their food.
Blackberry juice contains over 90 milligrams of vitamin C in one cup, offering up more than 100 percent of an adult's vitamin C requirements; 75 percent for women that are breastfeeding. Vitamin C, which is an antioxidant, helps generate collagen, which feeds the body's ligaments, tendons, cartilage, skin and blood vessels. It also helps to block damage caused by free radicals, which are generated when the body breaks food down.
Some people believe that vitamin C (i.e. ascorbic acid) has a synergistic action and works in combination with the micronutrients in blackberries, such as bioflavonoids and phytonutrients. They believe that taking vitamin C as a supplement might not be the right thing.
Still, if you consider the dosage that you typically take with your fruits and vegetables, it may not be enough. The famous physical chemist Linus Pauling (1901-1994), two-time Nobel Prize laureate, was a huge advocate of using higher dosage vitamin C to treat colds, cancer, and other diseases. He maintained that as much as 1,000 mg a day is needed for a healthy person. He himself was using 12,000 mg of Vitamin C a day. We can compare that to the RDA recommendations for vitamin C of 40 to 60 mg per day. Despite being such a prominent figure, his views were not widely accepted by the scientific community. My take on Linus Pauling is that he was far ahead of his time and modern studies confirm that.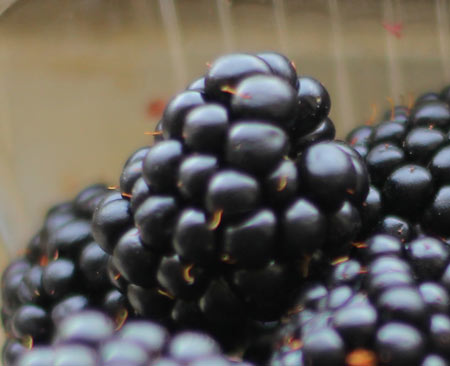 I believe taking vitamin C as an integral part of your food is important. I also believe that the RDA recommended dose is not enough, and that depending on your general health, some supplementation might be needed. How much is enough? Following some prominent nutrition sources, I personally tend to take between 200 mg to 500 mg of extra vitamin C a day.
Nutritive Value of Blackberries
(Source: USDA database, per 100 g. of produce)
Nutrient Value
% of
RDA
Energy
43 Kcal
2%
Carbohydrates
9.6 g
7%
Protein
1.4 g
2%
Total Fat
0.5 g
2%
Cholesterol
0 mg
0%
Dietary Fiber
5.3 g
14%
Vitamins
Folates
25 µg
6%
Niacin
0.65 mg
4%
Pantothenic
acid
0.28 mg
5.5%
Pyridoxine
0.03 mg
2%
Thiamin
0.02 IU
2%
Vitamin A
215 IU
7%
Vitamin C
20 mg
35%
Vitamin E
1.18 mg
8%
Vitamin K
19.8 µg
16.5%
Electrolytes
Sodium
1 mg
0%
Potassium
160 mg
3%
Minerals
Calcium
30 mg
3%
Copper
160 µg
18%
Iron
0.6 mg
8%
Magnesium
20 mg
5%
Manganese
0.65 mg
3%
Selenium
0.4 µg
1%
Zinc
0.53 mg
5%
Phyto-nutrients
Carotene-ß
130 µg
—
Carotene-a
0 µg
—
Lutein-zeaxanthin
120 µg
—
Blackberry Green Smoothie
Here is my favorite green smoothie filled with vitamins and antioxidants that your body craves!
Ingredients
1 cup of clean fresh water
1/2 cup lemon juice
1/2 cup fresh blackberries
2 cups spinach
1 small piece of ginger
2-3 kale leaves
1/2 cucumber
Instructions
Add water and juice of one lemon or lime, blackberries, spinach and kale leaves, peeled cucumber and ginger root to the blender. Blend until you reach the desired consistency.
A Word of Caution
Blackberries are considered safe for general consumption, that is, if you are not allergic to them. Blackberries are among the fruit varieties that have relatively low amounts of fructose, so you should be OK with that. However, if you are going to juice them in large quantities, and especially if you are trying to lose weight, have metabolic syndrome, or high level of triglycerides in your blood serum, please note that the elevated levels of fructose could be harmful.
One Last Thing…
Blackberries are extremely tasty, sweet and juicy, and loaded with all kinds of health-boosting benefits. Add them to your salads, smoothies, or yogurt… or you can eat them without anything else.