11 Healthy Strawberry Smoothie Recipes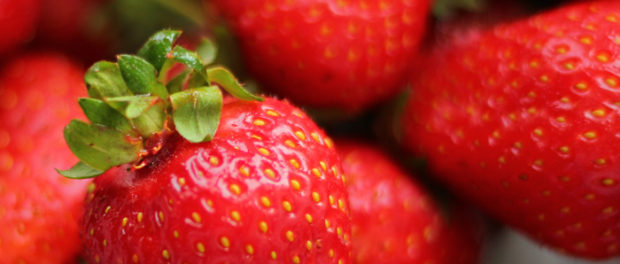 I absolutely love strawberries. Especially wild (organic) strawberries, as opposed to the oversized not so rich in flavor mass produced cousins. Nothing compares to the refreshing sweet taste of strawberries.
Strawberries are a frequent ingredient in my smoothies and juices, alongside raspberries, blackberries, cranberries, and blueberries. Whenever I need a treat, I use them and I know that the natural sweetness will satiate my sweet tooth, without having to resort to refined sugars and carbs.
They are a low calorie food, free of sodium. They contain no fat, and are cholesterol friendly.
Strawberries have a characteristic heart shaped form, which hints about the health benefits of this fruit. Packed with potent bioactive compounds, strawberries are great for your heart, for increasing the good cholesterol, decreasing blood pressure, and fighting cancer.
Strawberries are a member of the rose family. The best berries are medium-sized plump, firm, and of deep red color. Once they are picked, they won't ripen any further.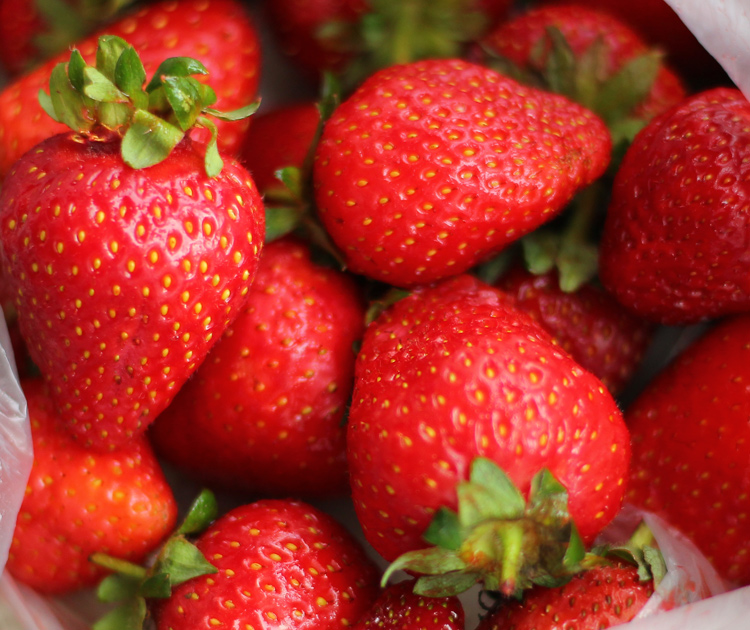 Health Benefits of Strawberries
Before switching our attention to some healthy strawberry smoothie recipes, let's look with some more details at the most important health benefits of strawberries.
Strawberries are a great source of natural folate. Folates are natural form of folic acid, which is a member of the huge group of Vitamin B complex. Women should monitor their folate levels during pregnancy, as well as any healthy person if fact. If depleted of this vital nutrient our body can be susceptible to vascular diseases, cognitive impairment, and rheumatoid problems.
Strawberries contain vitamin C, and if you take just one cup of them you will reach the official daily recommendations for this important vitamin. Even though officially recommended, this dosage is probably not even close to the optimal requirements for vitamin C. Still, the fact that it is the natural form of this nutrient we are talking about, makes strawberries good source of vitamin C. Just eight strawberries contain the amount of vitamin C that can be found in an entire orange.
Strawberries contain healthy fiber that help the digestive system. Unlike the highly refined sugars and carbohydrates, they bring beneficial action for the digestive system, feed the healthy bacteria, and help with irregular stool and constipation.
Strawberries are packed with antioxidants in a form of polyphenols and other active nutrients. In fact, they are among the top 20 foods that offer the best antioxidant protection. For example, they contain chemicals called anthrocyanins that helps the body fight harmful free radicals up to 24 hours after eating strawberries. In addition, they improve short term memory by as much as 100 percent in just eight weeks.
The blood levels of CRP (C reactive protein) are a marker of inflammation and health disease. Strawberries lower CRP, thus improving cardiovascular and general health.
Strawberries are packed with biotin. Biotin is a nutrient with anti aging properties, very important for the health of your hair and nails. Strawberries also have ellagic acid, which is an antioxidant that protects the your skin and prevents sagging.
Before you get started with your healthy smoothies, make sure you buy organic produce. If you cannot find organic strawberries, maybe it is better to choose another type of smoothie altogether. The reason is very simple: more than 50 types of pesticides and chemically intensive compounds are used on strawberries. That's huge, and that's why nearly every ear strawberries are close to the top of the list of Dirty Dozen Foods.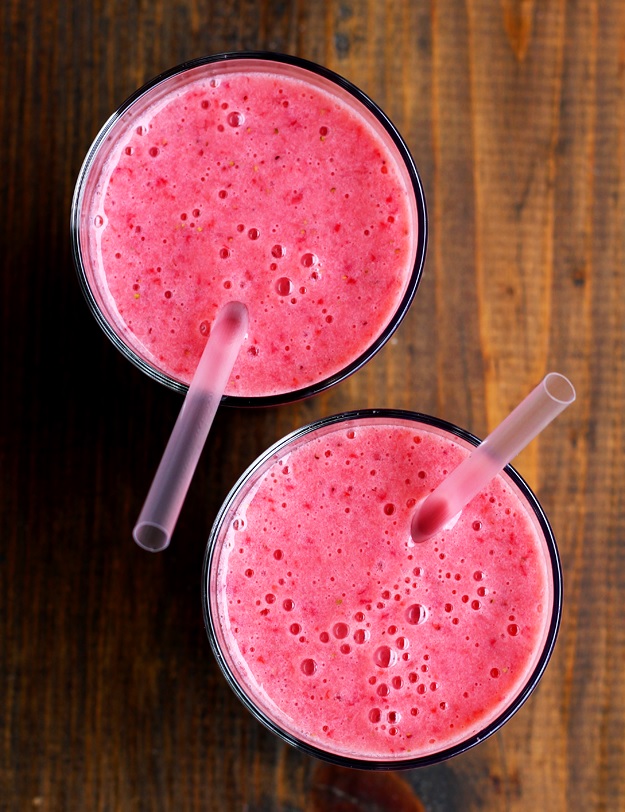 This is a sugar-free, creamy, and vegan smoothie. It takes only a couple of seconds to prepare and needs just 3 ingredients. Ice, strawberries, and unsweetened almond milk. Very easy to prepare, healthy (no-sugar added), and very delicious. Give it a try and get the recipe from the LilVienna.com website.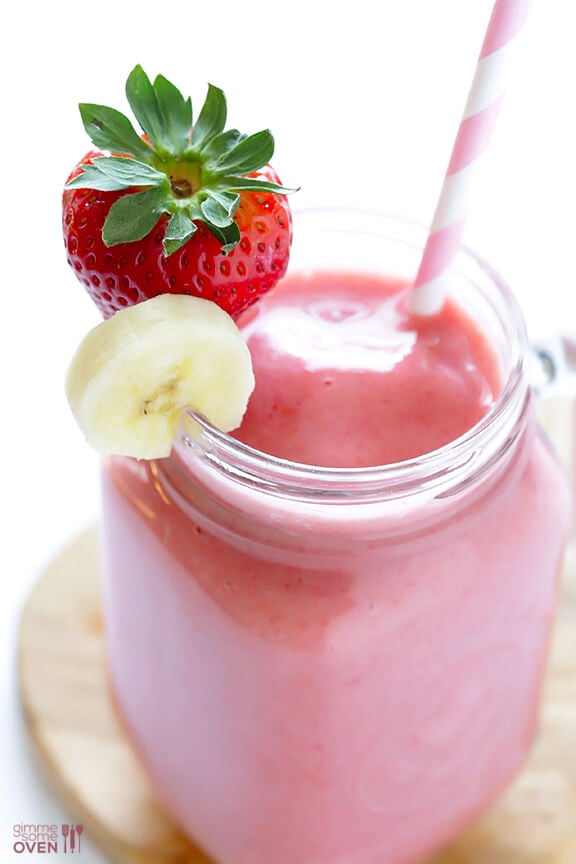 This is a delicious strawberry and banana smoothie. It tastes great with or without any additional ingredient. Whenever you crave a comfort food, but you don't want to have anything refined sugars and carbs, go back to this original recipe. You wont regret it. It is made from frozen strawberries, fresh bananas, some almond milk, some ice, and if you have to sweeten it, a little bit of honey. Check out the original recipe from Gimmesomeoven.com.
Despite the unusual combination, this is a tasty drink. Spinach could be somewhat problematic when it comes to smoothies, but the sweetness of the strawberries and bananas are all over this delicious treat. And the spinach brings so much of the healthful components into this incredible cup of nutritional powerhouse. Don't hesitate to check it out on the besthealthmag.ca website.
This skinny strawberry smoothie can be ready in a matter of minutes. It doesn't taste healthy at all. In fact, it tastes like a complete desert. Mix some frozen unsweetened strawberries, butter extract, and milk. Serve it and drink it right away. Get the entire recipe from amyshealthybaking.com.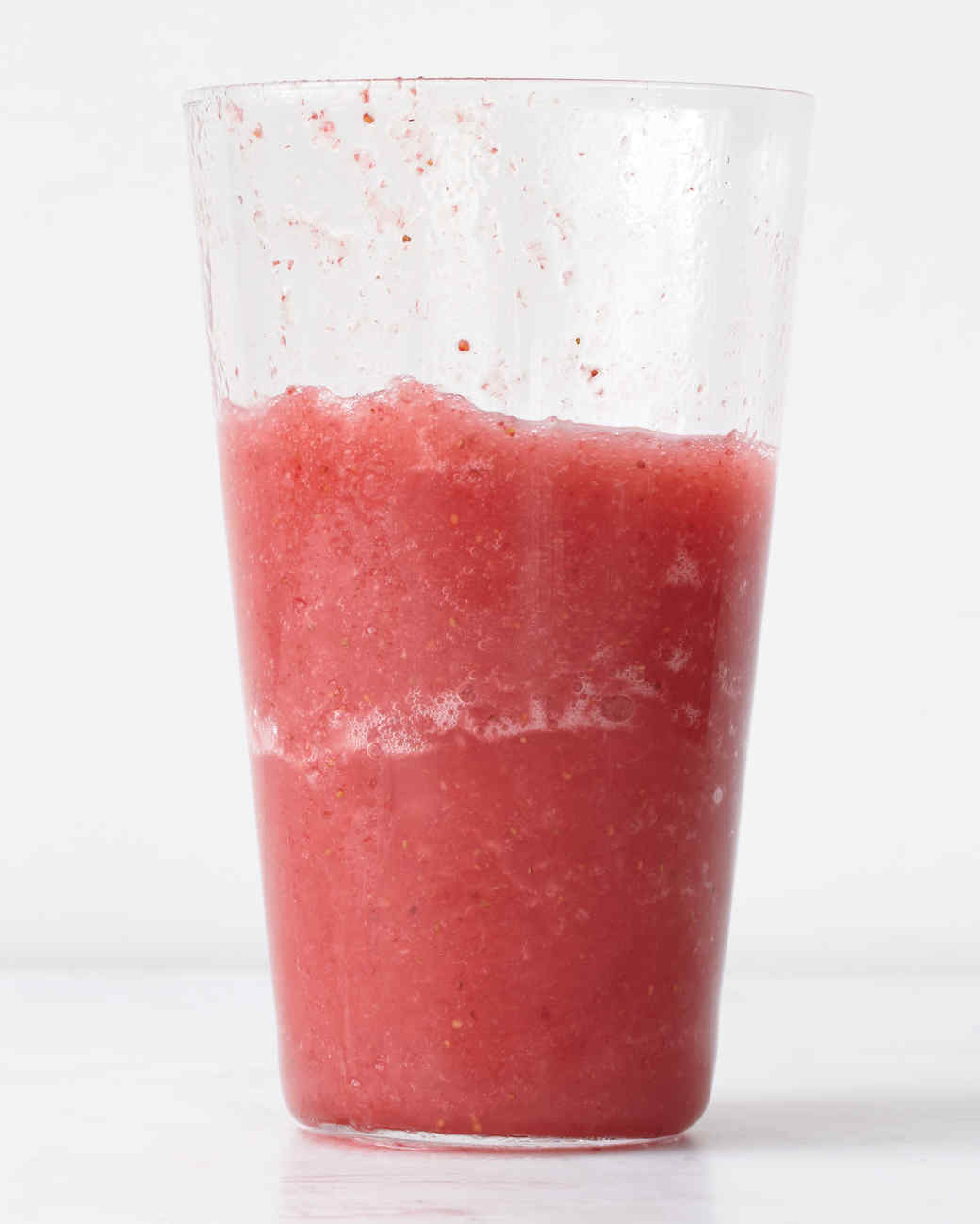 Here you will get not one but 10 supercharged smoothie recipes, including Coconut-Water Strawberry Smoothie, Strawberry, Mango, and Yogurt Smoothie, Strawberry-Grapefruit Smoothie, and Watermelon Blaster. My favorite was the Antioxidant Smoothie. Based on the mighty antioxidant properties of pomegranate, this one makes a refreshing frozen drink. Check them out from the marthastewart.com website.
Rachaelray.com has several interesting kid friendly smoothie recipes, including the Strawberry Banana Smoothie, If you currently have a banana, plain yogurt, frozen strawberries, orange juice, and honey in your kitchen, give it a try. More info on rachaelray.com
In this strawberry mango recipe you won't have to use any artificial sweeteners that make food taste artificial. Made out of milk, vanilla yogurt, peeled mango, ice cubes, and of course strawberries, it is a creamy delicious treat with a mix of mango and strawberry flavor. Check it out on tasteofhome.com.
For people with high blood sugar and diabetes, this is a great low-carb smoothie. While still sweet due to the natural fructose in the strawberries, it won't cause sharp spikes in the blood sugar. The recipe is simple and easy to follow. Check it out on diabetesdaily.com.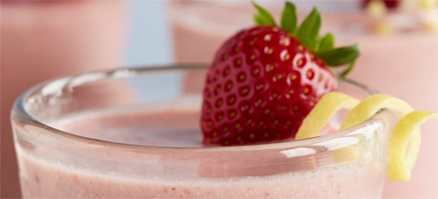 This is a creamy smoothie with one secret ingredient: blended cashews. They provide just the right flavor and texture to the smoothie, simulating milk without added milk at all. Lemon juice is another great ingredient which adds tanginess. Give it a try and get the recipe from driscolls.com.
Dark Chocolate powder is good for you and very healthy. While low in sugars, it contains a lot of bioflavonoids that reduce inflammation. In combination with Strawberries, it is a perfect mix. There is also some Greek yogurt, and frozen berries. This treat is great good for you. Give it a try and try the recipe from Nutritioulicious.com.
This is a refreshing, fruit packed smoothie. Apart from Strawberry there is Mango and Peach, and all of them together work great to produce a perfect blend of flavors. Try it and you won't regret it. Chances are you will love it as much as we do. More on cookingclassy.com.
Hope you enjoyed at least some of the recipes. If you do, please share with us your thoughts in the comment section below. To your health! Cheers.