Simple Summer Salad Recipes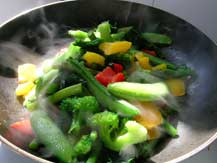 Summer is winding down, but there is still enough time to enjoy a salad recipe. Labor day is still a few weeks away, and for all intents and purposes, summer weather will be with us through most of September (at least in the south). So whether you need a light leafy salad or a more substantial pasta salad, here are some quick and easy salads to fit your needs.
Bean Salad
Bean salads are typically quick and easy to make. Open a few cans, mix some ingredients, marinate. This particular bean salad fits the bill. For ingredients you will need 1 cup sugar, 1 cup vinegar, a green pepper (diced), 2 medium onions sliced thinly, 4 stalks of celery (sliced), then a 16 ounce can each of yellow beans, garbanzo beans, green beans, lima beans, and red kidney beans (drain all cans). To prepare, you simply combine the sugar, salt, and vinegar in a pan — bring it to a boil for just a minute then set aside to cool. Meanwhile, combine the remaining ingredients in a large bowl and toss together. Pour the vinegar mixture over the beans then set the bowl in the refrigerator to marinate over night. Take the time to stir the mixture occasionally. Your bean salad will be ready to serve at your party the next day!
Tomato Salad
Like fresh tomatoes? You can't miss with this extremely simple recipe to make. You've got to like a recipe that takes more time to gather the ingredients than to prepare. For this tomato salad you will need 5 medium tomatoes (chopped), 1 tablespoon sugar, 1 teaspoon salt, 1 teaspoon basil, 1/4 teaspoon thyme, 1/4 teaspoon freshly ground pepper; 1/2 cup olive oil, 6 tablespoons vinegar, 1 tablespoon Worcestershire sauce, and 1 large onion (diced). Preparation can be no simpler. Combine all ingredients in a bowl, tossing lightly and then chill for 1 hour. That's it! I find it best served on a bed of lettuce leaves.
Basic Macaroni Salad
I am a huge macaroni salad fan. The only in my house, so I had to slip in the simplest macaroni salad recipe that I use. Pull together 4 cups of macaroni, 1 cup of salad dressing/mayo, 1 cup milk, 3 tablespoons of prepared mustard, 1/4 cup of vinegar, 1/2 cup of sugar, 1 small onion chopped very fine, and 1/2 cup of finely chopped celery. Prepare the macaroni according the directions on the box. Then combine all other ingredients in a bowl, tossing lightly to create a smooth creamy mixture. Add cooked pasta and toss to ensure noodles are coated in this lovely creamy mixture. Chill for at least an hour in the refrigerator and serve. I love this as a side dish for pretty much any meal.
Cabbage Salad
You have likely seen this recipe before listed under any number of names. Regardless of the recipe name, the best way to describe this is awesome. Ingredients are easy enough; a small head of cabbage, 1 small ripe tomato, 2 bunches green onions, 1/2 cup mayo, and 1/2 cup sugar. To prepare, cut up the head of cabbage just as you would for a lettuce salad. Then cut both the tomato and the green onions in to small pieces. Mix the 3 vegetables together in a bowl – you want the mixture to be thorough so that you don't end up with all of the onions or tomatoes in clumps. Then mix the mayo and sugar together in a small bowl. Now comes the decision. If you are going to serve this right away, pour the mayo/sugar mixture over the salad and serve. If you are preparing this for later, I find it best to hold off pouring the mayo/sugar until serving time as the cabbage tends to get a little soggy. Crispy cabbage is far better to me. You can always experiment with the amount of sugar and mayo. My kids prefer it sweeter, so I adjust as necessary.
There are so many salad recipes and variations out available. These are just a few of my goto recipes. As I always say, feel free to adjust ingredients to get the perfect flavor for you!
Kent Allen has been managing food and recipe websites for nearly a decade. At his most popular recipe site, FoodClassics, you can always find great free recipes for any meal or occasion.